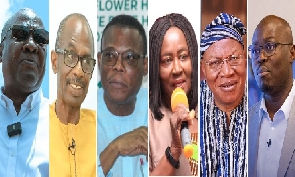 GhanaWeb Feature
"…the now declared presidential candidate or flagbearer of the National Democratic Congress who now becomes the leader of our party, HE John Dramani Mahama, for a great victory that has been chalked," the words of NDC General Secretary Fifi Fiavi Kwettey on May 14.

The former president delivered a historic presidential primary victory when he polled 99% of vote cast across the country on May 13 during the presidential and parliamentary primaries.

Mahama had long been described by top party functionaries as the presumptive flagbearer of the party and so his victory was more a case of by what margin against his competitors.

With the primaries underway, John Mahama gets his fourth consecutive stab at the presidency, having won the first and lost the second and third.

Prior to becoming flagbearer, Mahama had a core campaign team that he worked with as he met party members and delegates across the country.

In his inner circle, GhanaWeb listed among others, Prof Joshua Alabi, Madam Valerie Sawyer, Julius Debrah, Stan Dogbe and Prof Jane Naana Opoku Agyemang.

Now as leader of the party, the structure hands him a number of key lieutenants in the party's race to recapture power after he lost in 2016 to president Nana Addo Dankwa Akufo-Addo.
GhanaWeb looks at five generals that the NDC will present to Mahama to prosecute the 2024 agenda of returning to the Jubilee or is it Flagstaff House.

Johnson Asiedu Nketiah

Veteran General Secretary turned National Chairman, Johnson Asiedu Nketiah ceded his leadership of the party to Mahama after the former president was elected on May 14.

The two already have a working relationship over the years and are expected to take that relationship a notch higher given his role as National Chairman of the NDC.

2024 is Asiedu Nketiah's first General Election since becoming national chairman in December 2022 defeating the former chairman, Samuel Ofosu Ampofo.

Fifi Fiavi Kwettey

The General Secretary of every party is the administrator in chief and plays a crucial role in coordinating affairs from the national to the lower levels.
Kwetey was among the new set of executives that were sworn in in December 2022. As a former lawmaker himself, he will be expected to bring his campaign experience and other expertise to drive the agenda towards recapturing power.

Cassiel Ato Forson

The Minority Leader in Parliament is the party's main bulwark against government's plans and policies in the lawmaking chamber.

Ato Forson's rise to the position was without controversy because he had dislodged a veteran lawmaker in the person of Haruna Iddrisu. The party weathered that storm and achieved stability in its parliamentary leadership.

Ato Forson is known to be an admirer of the former president and has on occasions delivered technical financial analysis before Mahama spoke about the economy recently.

Running mate, campaign manager

Mahama's choice of a campaign manager will be as crucial as will be his Vice Presidential choice.
It is increasingly becoming clear that those who held those positions will likely be appointed to continue in the role partly because of the boosted performance that the party put up in 2020 when Mahama slashed Akufo-Addo's one million votes difference in 2016 into half.

The two persons in this case, have been listed in his inner circle. Campaign manager Prof. Joshua Alabi and Vice-Presidential aspirant Prof Jane Naana Opoku Agyemang.

Chairman of Council of Elders

The chairman nominally but in real terms the entire council who are a constitutional creation that allows the party to fall back on the experience and depth that the 'retired' stalwarts bring to the table in terms of steering intra-party affairs.

It is currently chaired by Alhaji Mahama Iddrisu, with members like former Speaker of Parliament, Edward Doe Adjaho, former Chief of Staff, Nana Ato Dadzie, former National Security Advisor, Larry Gbevlo Lartey, and former Information Minister, Kofi Totobi Quakyi.

The rest are former Local Government Minister, Kwamena Ahwoi, Former Education Minister, Christine Amoako Nuamah former General Secretary of the NDC, Alhaji Hudu Yahaya, former Trade Minister, Dan Abodakpi, Naval Captain (Rtd) Baffour Asaase Gyimah and Mrs Aanaa Ennin, a member of the PNDC.

You can also watch the latest episode of People & Places here




Meanwhile, watch the latest episode of SayItLoud on GhanaWeb TV below:








SARA