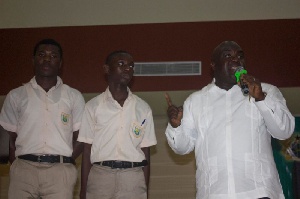 Two brilliant students who stole the show at a 'Job Summit' organized by the Chief of Staff have been rewarded with scholarships up to the University level.
The two Osei Twene Kwame and Boakye Yeboah David Henry both final year students at St. James Seminary Senior High School made very insightful contributions on how the Ghana Education Service can help in building the spirit of entrepreneurship among the young population.

The objective of the summit was to showcase some major interventions by President John Mahama in the area of infrastructure development to create the enabling environment for the growth of businesses, especially the private sector and social intervention programmes that have benefitted tens of thousands of people.

The students drawn from tertiary and other professional institutions, second cycle schools and other youth groups were taken through key interventions and what the President has done over the past four years.

They were also briefed on highlights of the 2016 manifesto and the areas that will be available for the youth to exploit in the wake of dwindling opportunities in the public sector particularly.
Osei Twene Kwame particularly called for an immediate review of the existing curricula in schools to develop entrepreneurial skills among students. Another contribution called for how to inculcate financial discipline and how to initiate start-ups.

The "Job Summit" is an innovation adopted by the Chief of Staff, Julius Debrah, as part of the NDC's campaign strategy to assure the youth of a working President - John Mahama - who is not "only creating the enabling environment for businesses to flourish but intends to roll out a well-structured plan for private sector led growth and other opportunities for the youth."

The maiden event climaxed Mr. Debrah's six-day campaign tour of the Brong Ahafo region at the Eusbertt Hotel at Sunyani. It will be replicated in all regional capitals across the country.