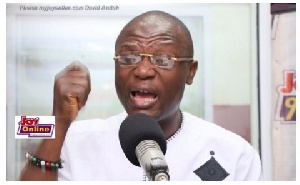 The National Organizer of the opposition National Democratic Congress (NDC) says he is oblivious to unaccounted monies donated by the business community to the party during the 2016 campaign.
According to him, donations made at the party headquarters are mostly received publicly hence assertions that there was no full disclosure of such donation were untrue.

His comment stems from several reports that some members of the Functional Executive Committee (FEC) are accusing former President Mahama of failing to adequately resource the party, leading to its defeat at the polls.

The reports also suggested that some grassroots supporters of the party are accusing the former President for channeling funds directly to the Parliamentary candidates and some voluntarily groups.

But according to the 2016 National Campaign Coordinator for the NDC, several concerns have been raised at the party's grassroots level with regards to the distribution of monies meant for campaign activities.
Commenting on this development on the Gold Power Drive with host Samuel Ablordeppey Thursday, Mr. Kofi Adams sought to clarify reports that FEC officials brought a budget of over 11.6 million Ghana cedis to the President to be disbursed to polling agents.

"Let me state on record that the party executives did not handle agent money. The distribution of monies meant for agents was done by somebody that was selected by the system and it was delivered directly to the regions. I don't know who was responsible for receiving those monies so if anybody published that somebody at FEC received monies for agents and he or she did not deliver; it cannot be true," he bemoaned.

He however, added that; "the training programs; training of the agents and selection of the agents among others was handle by the election directorate and funding for the training and allowances did pass through the national executives which is different from the election day agents payment."