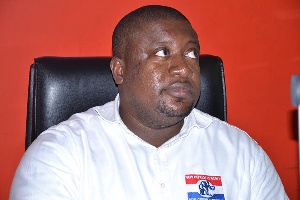 It may be recalled that the National Organizer of the New Patriotic Party (NPP), Henry Nana Boakye, popularly known as Nana B, denied allegations that individuals seen in viral videos were distributing items such as rice, cloth, and other goods to influence voters in the Kumawu by-election, claiming it was political propaganda orchestrated by the opposition National Democratic Congress (NDC).
However, Ernest Yaw Anim, the newly elected Member of Parliament for the Sekyere Kumawu Constituency in the Ashanti region, has contradicted Nana B's claims. He acknowledged that NPP members in Kumawu did indeed share rice, cloth, and other items to voters. Speaking on Oyerepa TV, Yaw Anim addressed accusations that he won the Kumawu by-election through dubious means. He revealed that the individuals seen in the viral videos were active NPP members based in Kumawu who decided to conduct the donation as a Mother's Day gift on his behalf. According to him, they acted out of love for him and the party.

"I saw the viral video and investigated the people behind the video, and I noticed the people were NPP members who teach in Kumawu. They did that because of the love they have for me and the party. So, on Mother's Day, they decided to do the donation on my behalf. So, it was a Mother's Day gift. So, what is wrong with that? Today when people buy cars for their mothers, they film it and share it on social media. This one was not meant for social media. It is unfortunate that some evil-minded people leaked the video just to accuse me of vote buying," he explained.

Nana B expressed disbelief at the videos, highlighting that they depicted isolated instances of individuals distributing small quantities of rice and presenting a cloth to a single person. He explained that the NPP had no involvement in such activities and stated that the party's approach to distributing items like rice would entail a more organized and inclusive method.

"I have seen a video circulating whereby someone is having a rubber bag with rice and videoing himself sharing it with someone... are you serious? Look, the New Patriotic Party, we don't have anything in connection to that.

"For someone to go somewhere and share rice, if we are serious about sharing rice, maybe the rice might be somewhere that there will be a lot of people, and the rice will be given to them, for that, you can say we are sharing rice. But for this video whereby someone has just opened his car front with a polythene bag with some rice and giving it to a single person... this kind of political orchestration from the political opponent, we have grown past that stage.
"Another one also, two people videoing themselves and presenting a cloth to one old lady, then... they capture it and circulate. Come on, we have gone past this; it is mere propaganda because we are serious here," he said.

The viral videos in question show some individuals offering rice, cloth, and other items to voters in Kumawu, with the intention of influencing their voting choices in the polls.

Ernest Yaw Anim, the NPP parliamentary candidate for the just-ended by-election in Kumawu, emerged as the winner. He received 15,264 votes, representing 70.91% of the valid votes. Kwasi Amankwaa, who ran on the ticket of the NDC, received 3,723 votes, representing 17.29%.

Kwaku Duah, an independent candidate, secured 2,478 votes, representing 11.51%, while the other




You can also watch the latest episode of People & Places:





Meanwhile, watch the latest episode of SayItLoud on GhanaWeb TV below:


AM/GA