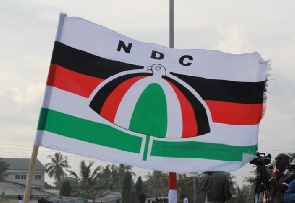 The main opposition National Democratic Congress (NDC) has said despite the sharing of money at polling stations and the distribution of "goodies," by the governing New Patriotic Party (NPP) in the Kumawu by-election, the party failed to make any significant impact in their stronghold constituency.
This was contained in a statement issued by the NDC Ashanti Regional Secretariat and signed by its Regional Secretary, Dr Frank Amoakohene, following the by-election in the Kumawu constituency, Tuesday.

Stressing that the Kumawu Constituency is a stronghold of the governing New Patriotic Party (NPP), the Ashanti Regional Secretariat of the NDC said despite this, "the constituency has been neglected by the government in terms of development."

It noted that the party is very happy with the increase in performance as compared to the performance in its 2020 elections.

"With our final results collated from all 75 polling stations, the NPP recorded 15,264 votes as opposed to the 14,960 votes they recorded in 2020. This represents a marginal increase of ONLY 304, representing 2.03 percent."

It further noted that: "The NDC on the other hand, in 2020, recorded 2,439 votes and has recorded 3,723 votes in this by-election. This represents a massive increase of 1,284 votes, representing 52.64 percent increase in our performance."
It indicated that: "The NDC in this by-election did not record single digit at any of the 75 polling stations in Kumawu as compared to the previous elections. It's therefore clear that the NDC is more attractive and poised to increase its votes in Ashanti region come 2024."

The Ashanti Regional NDC continued that: "Despite the sharing of money at polling centres and the massive distribution of goodies to the people of Kumawu, the NPP failed to make any significant impact in their stronghold constituency.

"The NPP obviously has become unpopular and on the verge of collapse in its own stronghold region."

It revealed that the NDC noticed "some irregularities, especially on the part of the electoral commission. These irregularities border on the EC's integrity and independence from this current NPP government."

"The party will in the coming days pursue these issues to prevent the recurrence of same in any future elections," it added.