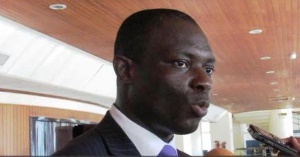 Deputy Finance Minister Kwaku Kwarteng, has dismissed allegations by the minority National Democratic Congress (NDC) in parliament that Finance Minister Ken Ofori Atta, cooked up a $2.25 billion bond for cronies.
At a press conference on Tuesday, the minority accused Mr Ofori-Atta of conflict of interest as far as the issuance of the government's recent 15-year-bond was concerned, demanding his immediate resignation.

According to the minority, the US-based firm, Franklyn Templeton Investment Limited, which bought 95 percent of the bond, had private dealings with the finance minister.

To that effect, he connived to give the US-based firm easy access to the bond in a deal they described as shady.

But reacting to the allegation on Starr Fm, Mr. Kwarteng berated the minority for misleading the public.

For him, there is no truth in the allegation and dared the minority to head to court if they believe the recent bond issuance was riddled with irregularities.
Mr Kwarteng added that of the bonds that had been issued by the Government of Ghana since 2015, Franklin Templeton participated and that "They are not some new investors that the Finance Minister, Ken Ofori-Atta, has interest in that we have gone to bring because there is a new administration."

He said the bond was issued by the Bank of Ghana (BoG) and that the process leading to the issuance was the same traditionally, despite change of government.

He dared, "If anybody says that the finance minister or some ministers have friends or have interest in any company and they think is conflict of interest…I have heard that they say they'll seek parliamentary enquiry or they will go to CHRAJ or they will go to court. I support whatever anybody wants to do.

"I think in the end…the truth will come out and going forward, we will be guided by the truth."