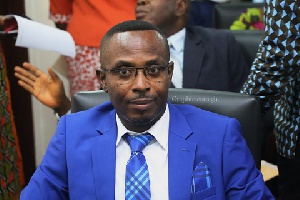 Central Regional Minister, Kwamena Duncan, has criticized National Chairman of the National Democratic Congress (NDC), Samuel Ofosu Ampofo for 'supervising' an offical statement from his party which 'attacked' renowned journalist, Kwami Sefa Kayi.
A statement announcing NDC boycott of Peace FM morning show 'Kokrokoo' described the host, Kwami Sefa Kayi as a 'dictator'.

"This decision has been occasioned by the unfair panelling system that the production team of that programme has continuously foisted on the NDC over a number of months".

"Specifically, the reason for this boycott has to do with the unreasonable decision of the producers and host of the programme to permanently reserve one of the two slots the party has traditionally had on Wednesdays on the show to Mr Allotey Jacobs, who is often introduced by the host of the programme as a 'social commentator with strong leanings to the NDC...Although we appreciate the production and editorial discretion of the station to give their platform to whoever they deem fit, we consider it unfair for the NPP to maintain their two slots on Fridays while the NDC's two slots on Wednesdays are reduced to one, to satisfy the whim of a dictatorial host and his poodle," the statement said.
Kwamena Duncan reacting to the statement on 'Kokrokoo' wondered why Ofosu Ampofo who has once 'benefitted' from the 'Kokrokoo platform' would look on while his party describes 'Chairman General' as he is popularly called as a 'dictator'.

According to him, the 'babies with sharp teeth' in the NDC can be pardoned but 'not Ofosu Ampofo'.