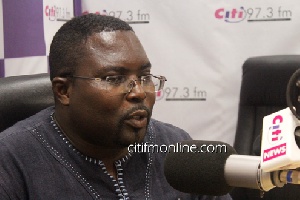 National Democratic Congress [NDC] Member of Parliament for Keta Constituency, Richard Quashigah has advised the Vice President Dr. Mahamudu Bawumia to learn to speak with diplomacy and dignity.
The Vice president Dr Bawumia in reaction to the statement from the minority on the $2.25 billion 15-year domestic bond said the minority is "ignorant" about the bond.

"It shows a lack of understanding. The minority has never understood this economy. It shows ignorance and I'm so sad this is coming from people who should know better."

"Maybe they should read a little…we are doing even much better," Dr. Bawumia punched the Minority, adding, "They are really demonstrating a lot of ignorance in the process of managing the economy."

The minority said "The key points about the recent $2.25billion bond issued by the NPP government; the bond was virtually participated by only two investors. The whole Bond transaction was shrouded in secrecy to the extent that Ghanaian investors were denied the opportunity to participate in the deal. In essence, the entire deal lack transparency."
But in reaction to the comment from the vice president, a statement signed by the Deputy Ranking Member on Employment, Richard Quashigah, described the Vice President's statement as "unfortunate" and "jaundiced."

"If indeed those were his words, then it is not only unfortunate, but a very jaundiced conclusion to have been made by him," Mr. Quashigah said.

"If indeed the reportage as put out by the media is accurate, then he is advised to learn to speak with diplomacy and dignity expected of a Vice President or else before long he could cause this nation an incalculable international embarrassment. Assuming without admitting that the minority got it wrong, couldn't he have clarified without insults?."

"Mr. Bawumia, the current Vice President of Ghana, must do the excellent thing by withdrawing and must apologize to the good people of Ghana. The use of intemperate language is unbecoming of the Vice President," the statement added.