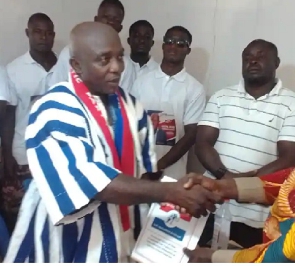 Sun, 13 Aug 2023 Source: GNA
Timothy Kwasi Koki, a senior lecturer of Dambai College of Education (DCE), has filed to contest the New Patriotic Party (NPP) parliamentary primaries in the Krachi East constituency of the Oti Region.
Speaking with the Ghana News Agency (GNA) after filing his nomination forms, Mr Koki said his decision followed several calls from stakeholders and the youth of the Constituency to shore up the development deficit of the area with his rich lobbying skills.

The candidate hopeful, an indigene and grassroots person, who is well-known across the constituency said that his experience in addition to his humility, commitment to achieving results and resourcefulness would be an advantage to attract floating voters and votes of the disgruntled supporters of the National Democratic Congress (NDC) due to the abysmal performance of the incumbent Member of Parliament (MP) over the years.

Koki said he would leverage his experience at home and abroad to influence policies that would impact the economic fortunes of the constituency, especially in employment, education, health, roads, and infrastructure.
He appealed to the delegates of the NPP to entrust him with their votes since he is the right person to wrestle power from the NDC and lead to total dominance of the NPP in the constituency.

Some supporters accompanied the parliamentary candidate hopeful told GNA that, he had good intentions for Krachi East constituency and believed if he was given the nod he would work hard for the party to rescue the seat in the election 2024.

Prosper Odugbe, the Constituency secretary, said all the five aspirants, who picked the nomination forms had submitted their nomination forms, setting the stage for an uncompromising contest.
Source: GNA