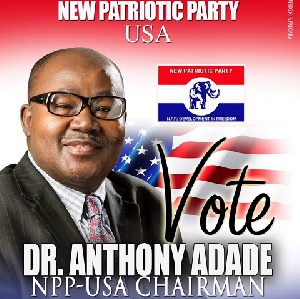 An aspirant for the chairmanship position of the US branch of the New Patriotic Party, Dr Tony Adade is urging members of the party in the diaspora to take advantage of the opportunity presented by the ROPAL ruling.
The Human Rights Division of the Accra High Court on December 18, 2017 ordered the Electoral Commission (EC) to implement the Representation of the People Amendment Act (ROPAA)2006 (Act 699), which gives Ghanaians in the diaspora the right to vote, within 12 months.

In a statement issued on Monday, February 2, 2018, Dr Adade assured loyalists of the party in the United States that he will work tirelessly to ensure that the ruling by the court is fully implemented.

Below is the statement

By judgement of the Human Rights court in Accra on December 18 2017, beginning 2020, Ghanaians living abroad can vote in Ghana's elections. While it is a ruling that affects all Ghanaians, NPP USA must lead the way because there are more Ghanaians living in America than any other country outside of Ghana.

It means mobilizing resources to ensure we are properly positioned to take advantage of it. It also means collaborating with various groups, including all the chapters in the diaspora, and prominent individuals and groups around the world such as the Progressive Alliance Movement and others who played significant roles in the process.
We are going to vote in 2020. However, it is going to require leadership capable of navigating through the complexities of process consultations necessary to get us there. I understand what that means. Your vote is sacred. It will allow us all to contribute our share to the vibrant and flourishing democracy in mother Ghana.

Vote for me as your chairperson for NPP USA.

A vote for me will ensure that we all vote in 2020

About Dr Tony Dade

Dr. Adade hold a Bachelor of Science Degree from Northeastern University, Boston Massachusetts, a Master of Science and a Doctorate Degree from Lesley University, Cambridge Massachusetts all in the USA.
Dr. Adade has been a card bearing member of the NPP for many years. He was the first Chairman of NPP Worcester Branch now NPP Massachusetts Chapter during its inception in 2004. He is currently a member of NPP-USA Council of Elders.

Dr. Adade is a business executive with many years of executive leadership experience in Information Technology in the business and public sector. He is currently the Associate Vice President and Chief Information Officer at Worcester State University, Worcester, Massachusetts.

Dr. Adade has authored numerous articles and book, including "Teaching ITIL to Technology Managers" at Amazon, and a recent article "Technology and Ghana's 4th Republic: Every Country Regrets not doing this Sooner"