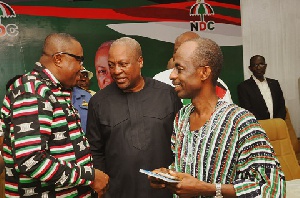 Pollster and Managing Editor of the Daily Dispatch Newspaper, Ben Ephson has said former President John Mahama will be engaging in an exercise in futility if he decides to lead the NDC party Election 2020.
According to him, given the current strive in the NDC and the likely worsening of the situation, the ex leader is sure to lead the party into that crucial polls with a fragmented front.

The NDC lost the 2016 elections miserably to the New Patriotic Party (NPP) led by the Nana Addo Dankwa Akufo-Addo.

Akufo-Addo beat the incumbent John Mahama with over a million votes to win the presidency with the NPP also having almost an absolute majority in Parliament after snatching several seats from the NDC.

Even as the Prof. Kwasi Botchway Committee investigating what led to the party's shameful defeat continues with its work, members of the NDC have in the past few days traded accusations against each other.
While some leading members have accused the former President, John Mahama of leading the party into a ditch, others believe the stashing of campaign cash by some senior party officers caused the defeat.

Speaking to Kasapa News Mr Ephson stated that he'll be very surprised should the ex President stage a comback to lead the NDC.

"If ex President Mahama has political experience, with the in-fighting in the NDC that is going to worsen in the period ahead, it's a taking a horse for racing and after losing, the same horse which is sick is used for another racing contest. If he comes back as the Flagbearer, he's going to go into election 2020 with a weakened and disunited party. Should he decide to stage a comeback to lead the party I'll be very surprised. It's very unlikely he'll come back."