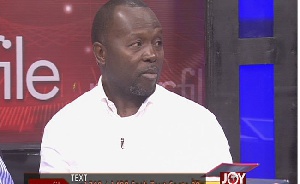 A former Deputy Attorney-General and Deputy Minister of Justice, Dr Dominic Ayine, has reiterated that the National Democratic Congress (NDC) is better off with John Dramani Mahama as its flag bearer heading into the next election.
In response to a question whether former President John Dramani Mahama, who lost to the New Patriotic Party's (NPP) Nana Akufo-Addo in the 2016 elections should be brought back, Dr Ayine said: "Of course!" and added: "Any day I think that JM is the best for NDC."

Dr Ayine, Member of Parliament for Bolgatanga East, held the view that the party can reclaim all the parliamentary seats it lost in the Northern Region in the last election.

He emphasised: "I'm very sure we will get all of them back in 2020."
Dr Ayine pointed out that the signs are clear as "people are regretting having voted based upon promises of heaven on earth and they are not seeing.

"The nurses in Zuarungu Training School call me all the time and they tell me they were deceived," he said.

The NDC is going through reforms to ensure the recommendations of the Professor Kwesi Botchwey committee, which investigated the causes of the party's loss in the last elections, are implemented to help the party regain power in 2020.