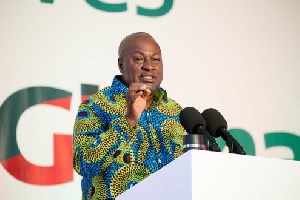 Sat, 22 Oct 2016 Source: Daily Guide
President John Dramani Mahama has denounced the defeated national Democratic Congress (NDC) candidates, who have filed nominations to contest as independent candidates in the 2016 parliamentary election.
He said: "The NDC will not entertain NDC members who contest as independent candidates but it will rather appeal to you to rally behind the NDC candidates to win in their constituencies."

President Mahama, who was addressing NDC sup-porters as part of his four-day campaign tour of the Volta Region, said it was unacceptable for the same family to be divided on account of political power.

Disgruntled and defeat-ed candidates in the ruling NDC and the New Patriotic Party (NPP) have in the past and even this year deserted their parties to contest as independent candidates.

In most cases, they share the votes with the party's elected candidates, paving the way for other political parties to make inroads in the election.

The call by the President, therefore, is to avoid the situation whereby their actions could thwart the efforts of duly elected candidates in their bid to win the seats. President Mahama said although it was practice in the country, it would continue to be an inimical and alien to the NDC, as it could serve as a reducing agent for the fortunes of the party and candidates.
He said although the NDC would be retained in power, there was no need engaging in activities that could hamper and dwindle the fortunes and goodwill Ghanaians had given them over the years.

On development projects, President Mahama said the building blocks had been laid in his first term of office and in the second term, they would put the icing on the cake by accomplishing the development dreams of Ghana to make her taller than her peers on the continent.

He mentioned agriculture and job creation as the major components of his next four-year term and urged the electorate to exhibit a high-level of discipline before, during and after the polls.

The President also addressed the gathering at similar rallies at Golokwati and Songor in the North Dayi Constituency where he inaugurated a newly constructed administration block of the Songor Senior High Technical School. He later addressed students of the University of Health and Allied Sciences in the Ho Municipality.
Source: Daily Guide