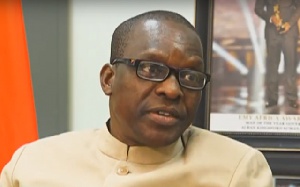 The National Organizer of the opposition National Democratic Congress (NDC), Kofi Adams and other party activists, who are loyal to John Mahama, have launched a blistering attack on Second Deputy Speaker of Parliament and Member of Parliament (MP) for Nadowli Kaleo, Alban Sumani Kingsford Bagbin for daring to criticize the former president.
Mr. Bagbin, in his quest to lead the NDC in the 2020 elections, has gone overdrive, firing former President Mahama from all cylinders.

He said NDC should not endorse the former President who is also vying for the flagbearership position of the party.

He said NDC would be doomed if Mr. Mahama is selected to lead them in 2020 because, according to him, Mr. Mahama led the NDC into a ditch as a driver.

Cronyism & Nepotism

He also said the former President sidelined all those who helped the NDC to win elections and rather went for those who did not suffer for the party but became rich overnight.

He claimed those people built mansions and bought expensive cars like Toyota Land Cruiser V8s.

However, Kofi Adams, who was the Campaign Coordinator for the failed Mahama re-election bid during the 2016 election, said Mr. Bagbin is out to destroy the NDC.


Bagbin's Mansion

"I know that Bagbin does not live in a thatch house in Accra here and when one visits Wa, he owns one of the biggest houses there. So I am surprised that he will be the one talking about mansions here," he fired, adding "why do you seek to lead the party if you don't intend to better the lives of people?"

"If I am a leader, I am supposed to give an opportunity to people and lead them from where they were to a better place," he said.

"They worked hard when they had the opportunity to serve so there is no point in anyone questioning what they benefited.

He said instead of attacking the former President, Mr. Bagbin should "be worried about why his votes in Nadwoli Kaleo have dwindled over the years."

Warning
NDC General Secretary Johnson Asiedu Nketia issued a strong warning to candidates vying for national executive positions to refrain from making disparaging comments against their opponents in the upcoming National Congress.

He observed that the party would not hesitate to drag candidates before the disciplinary committee if they are found culpable of breaching the rules of the campaign.

Speaking at a press conference, Mr. Asiedu Nketia announced plans to roll out the guidelines for the elections, adding that they would not hesitate to expel errant candidates if the need be.



Planned Agenda

Meanwhile, an NDC group called Social Democratic Forum that recently attacked leading party members from the Volta Region for undermining the former President John Mahama's comeback, has struck again.

This time, members of the group have directed their arsenals at Mr. Bagbin.
They claimed that the MP is being driven by envy of Mr. Mahama and asked him to "back off with his infantile sanctimonious effusions."

A statement jointly signed by Manan Mustapha and Alhassan Issahaku said "as unpaid vanguards of H E John Dramani Mahama's brand since 2015, we have been watching closely developments within our Great Party, the NDC, as we prepare to elect a presidential candidate for the elections in 2020."



Evil Axis

"A couple of weeks ago, we responded to the calculated denigration of the image of the charismatic President Mahama by the evil axis of Volta, led by the newfound Nana Addo loyalist, Mr. Rawlings."

"We were urged by the likes of the affable Madam Joyce Bawah, in our conversation with her, to tone down, even though she agreed that we were not entirely wrong," they said, adding "we decided to heed her appeal to us. But we were shocked to read the August 16 edition of the New Independent newspaper with a screaming headline 'Volta Chiefs Dump John Mahama.' We would, however, not focus much on the power conscious Volta cult."


Once Respected

"It's however sad that the once respected Hon. Alban Bagbin has allowed envy and hatred to consume the better part of him. He cannot accept the fact that he entered parliament before H E John Mahama and the latter became President before him. What Hon. Bagbin and the many anti-JM elements in the Volta Region fail to understand is that the question on who leads is a matter of grace and not long service to a political party."

They said, "Mr. Bagbin has joined the NPP claims of corruption against H. E John Mahama," asking "but is Mr. Bagbin qualified to accuse anybody of corruption?"

"This is a man who took $5,000 and betrayed Ghanaians by joining the NPP to dispose of Ghana Telecom to Vodafone. He is no different from Mr. Rawlings. They are pretentious preachers of morality but more dangerous than Satan."

"As we await the official declaration of H E John Dramani Mahama this week, we ask his admirers to prepare for ingrates like Mr. Alban Bagbin. They know they cannot win the contest but it is their intention to use the contest to arm the super incompetent NPP ahead of the 2020 elections.

When the group issued its first statement to criticize some NDC stalwarts from the Volta Region, including the party's founder JJ Rawlings, the office of Mr Mahama dissociated itself from the statement but did not condemn them for being openly ethnocentric.