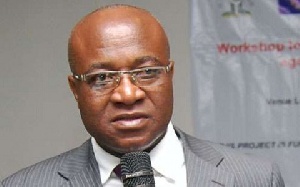 The Majority Leader in Parliament, Osei Kyei Mensah Bonsu has slammed former President John Dramani Mahama for comparing himself as a better manager of Ghana's economy to President Nana Addo Dankwa Akufo-Addo.
According to the Minister for Parliamentary Affairs, all the economic indicators measuring the success of the economy in the country makes former President John Mahama the worst manager of the economy.

Speaking on Okay FM's 'Ade Akye Abia' morning show, Osei Kyei Mensah Bonsu mentioned that the 3.7 percent GDP growth rate in 2016 was the worst in 20 years recorded under former President Mahama.

"The GDP growth rate that President Mahama left behind in 2016 was 3.7% and this GDP growth rate was the worst GDP Ghana had for 20 years and it is unprecedented. This is the track record of former President Mahama. But when Akufo-Addo took over the government in 3 years, the GDP growth rate is now 7.3% on the average . . . in the first year, the GDP reached 8.5% which was the 3rd highest growth rate in the world. So who is the best manager of the economy?" he asked.

He added that the inflation under the late President Mills did well when Dr Kwabena Duffour was the Finance Minister.
According to him, the inflation rate reached a single digit from the 17.5 percent under former President John Agyekum Kufuor; thus, it remained at a single digit for 20 months and former President Mahama sent it back to 17 percent.

He reiterated that the current inflation rate situation under President Akufo-Addo in 3 years is unprecedented as it is in the region of 7.6 percent, making it the first time in 30 years, the lowest single digit of inflation rate in the country.

He further revealed that the gross international reserved which indicates the strength of the economy was 3.8 billion dollars, catering for Ghanaians for 2.8 months, but then, the same gross international reserve under President Akufo-Addo is about 8 billion dollars, lasting for 4 months.