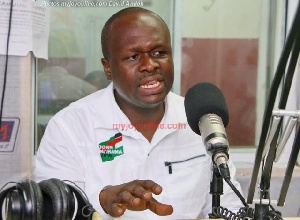 The opposition NDC Greater Accra Regional Organizer, Anthony Nupkenu has launched a scathing attack on managers of government Communications under ex President John Mahama's administration, accusing them of doing a terrible job at publicizing the achievements of that regime.
Describing them as "foolish", Anthony Nukpenu claimed their poor performance led to a lot of governement achievement being hidden from the people, while the NPP is taking credit for a project, it knows nothing about.

Anthony Nukpenu raised these concerns while commenting on President Akufo Addo's apparent snub of President Mahama over his effort in initiating a project which is said to have been implemented under the former leader's regime.

The NDC has accused the President of showing bad faith and urged him to apologise to former president Mahama after he claimed that the Jambusie Water Project was initiated by President Kufour.

But the NPP insists the president was right for crediting Mr. Kufuor for the project as he initaited it.

Speaking to Host Akwasi Nsiah on Simiso on Kasapa FM Wednesday, Anthony Nikpenu commended the Upper West Regional Communications wing of the NDC for vehemently setting the records straight on the water projects.
"Many things were hidden from the people of Ghana and even we NDC members, so today, the NPP goes out there and make political meat out of NDC achievement and you see us the very people they relegated to the background coming to defend it. Today, the Upper West Regional Communications wing of the NDC who are making things clear, how were they treated when we were in government. Why is the likes of those guys not talking today, where are they?

"The foolishness they displayed in government has given the NPP the urge today to run after anything good that the finest President of the land [Mahama] did. Ex President Mahama entrusted these guys with positions to propagate the good works of his government, but these guys failed woefully.

"Till today, we still have tonnes of 'Green Book' lying in peoples bedrooms and warehouse when these books were meant to be shared to Ghanaians, they were treating it like cocaine. They should chew the books now, this is the kind of foolish attitude put up by Ministers of state who ex President Mahama out of good heart and wisdom put them in positions…look today if Akufo Addo goes to Tema and commissions the Tema Housing Project, I'll not be surprised because this one of the projects that was finished, TDC had wanted the president to come and commission but people around the President refused when we did the programme to go and commission as part of our campaign tour. Those communication managers of the President refused to go, thinking that they were doing things to spite some of us.

"Today Akufo Addo will go and commission it and take credit. A project that was done under ex President Mahama's stewardship through the board of Directors he appointed. President Akufo Addo will make public noise about something he has no knowledge of because, we have people that when we were dealing with them, they thought they were gods, nonsense!"