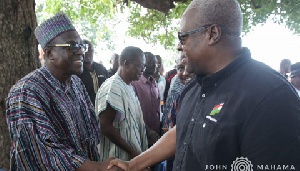 Former President John Dramani Mahama paid a visit to Second Deputy Speaker of Parliament Alban Sumana Kingsford Bagbin on Sunday at the start of his Upper West Region campaign tour.
Alban Bagbin, who is the Member of Parliament for Nadowli-Kaleo Constituency, was mourning the demise of a brother.

Mr Mahama visited Mr Bagbin and his family at Sombo near Wa to commiserate with them.

The two have declared their intention to contest the December 7 presidential primary of the National Democratic Congress (NDC).

The former president has already visited the Central and Northern regions as he travels across the nation to canvass for votes from delegates.
His campaign has, however, been targeting the New Patriotic Party (NPP) government.

Mr Bagbin, on the other hand, has met some delegates already but he is yet to put his campaign in full gear.

He had gotten some visually impaired and stammering persons piqued with comments he passed on some appointees of Mr Mahama's.