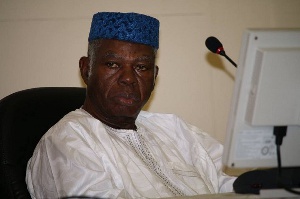 Some executives of the People's National Congress (PNC), including the leader and former flagbearer, Edward Mahama, have been accused of hoarding funds and resources meant for the advancement of the party.
A total of one million cedis was said to have been released by the Akufo-Addo government to Dr Mahama to be handed to his party, but the now Ambassador-at-Large is claimed to have pocketed the money.

Communications Director of the PNC, Emmanuel Wilson, in an exclusive interview with TV3 alleged Dr Mahama has refused to release the money to the party on grounds that it was given to him for his personal use.

"One million Ghana cedi that was given to Dr. Edward Mahama through this government (NPP) to help PNC to strengthen itself," he alleged.

Chief of Staff, Frema Opare has been mentioned as the one who handed the money to Dr Mahama.

"[The] one million Ghana cedi gets to Dr Mahama, which is supposed to be used for the party and as we speak the reasons being given or whatever comes out of Dr's mouth is that that money was given for his personal use; for his office as ambassador at large," Mr Wilson claimed.
He further alleged additional amount o 500,000 given to PNC through its Vice Chair, Henry Asante also never got to the party.

"As we speak an amount of money 500,000 cedis again comes through the office of the President, and I'm amazed … this money supposed to get to the party through the Vice Chairman, Henry Asante and as we speak, the money gets into his pocket and he says the money was given to him for his personal use," he alleged.

PNC 'dead'

In the view of Mr Wilson, the PNC which is supposed to be the alternative for Ghanaians has lost its focus.

"The PNC is gradually becoming a dead. I don't want to use the word useless but it's become a very dead political party in that, over the past period, when all of us thought that we were putting our hands on board to build a political party that will be an alternative, Ghanaians are calling for an alternative", he noted.
"Some leaders of the People's National Convention are rather using the PNC as a platform to enrich themselves… we haven't gone for any congress as we speak," he complained.

He said it is untenable that the party has not gone for congress despite the fact that the general elections take place in December 2020. He indicated that all that the party discusses at National Executive Meetings is how to raise funds

Mr Wilson noted that menace has been going on for a long time, citing an instance when the party's National Chairman, Bernard Monarh claimed ownership of a pickup vehicle which was given to the party.

"It is sad to note that in the past few days, funds have been raised and funds decide to get into the pockets of individuals"