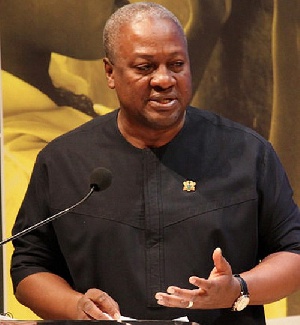 Though former President John Dramani Mahama prior to the 2016 elections may have done well in infrastructure which is evident, he failed to tell Ghanaians exactly his vision if he was retained, Former Member of Parliament (MP) for La Dade Kotopon in the Greater Accra Region, Mr. Nii Amasah Namoale has revealed.
He admitted the then-candidate left an enviable legacy but fell short of telling Ghanaians the way forward which is why he lost by over one million votes to the New Patriotic Party's (NPP's) Nana Addo Dankwa Akufo-Addo now President.

It would be recalled that President Nana Addo Dankwa Akufo-Addo polled 5,755,758 votes representing 53.72% as against former President John Dramani Mahama who polled 4,771,188 votes representing 44.53% to emerge victorious at the polls.

Various reasons were ascribed as the cause of the defeat of the ruling government but Nii Amasah Namoale told Hello Fm that the NDC led by John Dramani Mahama failed to give Ghanaians hope which occasioned the defeat of the party.

"He only campaigned on his legacy without telling Ghanaians his vision for the country hence his defeat to Nana Addo in the 2016 polls", he revealed while MyNewsGh.com monitored.


In his view, Professor Joshua Alabi is the obvious choice for the party and is therefore urging delegates to give him their mandate in order to guarantee them two-terms as president.



"When you vote for Professor Joshua Alabi, NDC will be in power for eight years. He is not going to be a one-term president like former President John Dramani Mahama".He said.