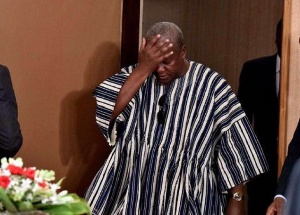 A member of the New Patriotic Party's (NPP's) Communications team in the Ashanti region, Opoku Boahen has cautioned the president-elect Nana Addo Dankwa Akufo-Addo to b wary of the caliber of persons he appoints as ministers.
He observed that the downfall of the Mahama-led administration was partly because of the kind of appointments he made in terms of ministers and other appointments to enviable positions who in the end disappointed him hugely leading to his electoral defeat.

Opoku Boahen wants the NPP leader to draw serious lessons from this and not appoint persons who will let him and Ghanaians who reposed much confidence in his ability to save them down.
According to him, wrong appointment of ministers can crumble the administration of the president-elect and therefore underscored the need for him to go about such appointments with caution.

"The outgoing president lost the 2016 elections because of some ministers he appointed. Since the said NPP is a continuing government he should tread cautiously in his appointments. In subsequent elections whenever Nana Addo appoints any elder as a minister a youthful person should be appointment as a deputy"