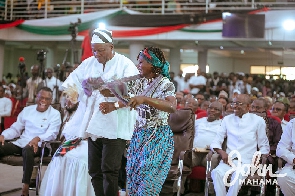 Former National Organiser of the opposition National Democratic Congress, Yaw Boateng Gyan, has described as a funfair the post -flagbearership election acceptance ceremony held by the party on Monday May 15, 2023.
According to Yaw Boateng Gyan, the ceremony which saw former President John Dramani Mahama give an acceptance speech following his election as the party's flagbearer for the 2024 presidential election gives the party off as not being serious about recapturing power.

"As I speak to you now some leaders of the party have called me and admitted that what we need most now is to unite. That is the most important thing we need to do so we are not listening to what other people are saying neither are we paying attention to the funfair that was held in Tamale because we have seen some before," he stated on Top FM's political talk-show, Final Point hosted by Kwabena Owusu Agyemang (Governor).

He noted that the NDC despite displaying similar pomp and pageantry in 2016 and 2020 lost both elections and can therefore not afford to repeat the same mistakes again.

"We should get serious, these things are not needed. Sometimes I get shocked that we tolerate these things in the NDC. Do they think the 2024 election is a done deal? I wonder if our people are actually aware of the people we are going to battle with in 2024?" he questioned.

Former President John Dramani Mahama won the NDC primaries with over 98% of the total votes cast.
Ahead of the primaries, Dr Kwame Duffuor whom Yaw Boateng Gyan was supporting for the flagbearership filed an application for an interlocutory injunction against the primaries.

However, when the application was called for hearing, lawyers for the flagbearer hopeful told an Accra High that they had been instructed by their client to discontinue the case.

Mr Duffuor was seeking to halt the planned election as a result of concerns over the voter register to be used for the exercise.

Meanwhile, Dr Duffuor barely 24-hours before the election on Saturday announced his withdrawal from the contest.

Addressing a press conference on the eve of the elections, the former minister for finance said the processes leading to the election was fraught with fraud hence his decision not to participate in the contest any longer.
His decision left former President John Dramani Mahama and former Kumasi Mayor Kojo Bonsu as the remaining contenders in the race.

Meanwhile, you can also watch the latest episode of People & Places here





You can also watch the latest episode of The Lowdown below:


GA/SARA