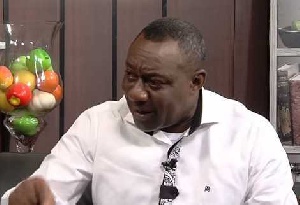 Member of Parliament for Bantama, Henry Kokofu has lambasted President John Dramani Mahama for distributing what looks like money to market women at Abossey Okai.
A video showing President John Mahama giving out something that is suspected to be money to some party supporters during a road campaign tour has gone viral.

Though the President's Chief of Staff has discounted the claims that he was handing out money to the market women, some critics are not in agreement with the explanation given by Mr. Julius Debrah.

"That is something people have not taken notice of, Presidents don't carry money around. I never knew until I got to the presidency," he told Joy FM, adding he believes "sincerely that knowing President Mahama, he wouldn't deliberately go to a market place and start throwing money around. He is a very experienced person.

"Having worked with him closely I believe that under no circumstance will he be throwing money around. It is also possible that it could be a leaflet..."

Speaking on Peace FM's 'kokrokoo', Hon. Kokofu wondered why the President would give money to market women at Abossey Okai when people in his hometown, Bole Bamboi, are living an impoverished life.
According to him, the President's hometown Bole Bamboi has been recorded as the 7th poorest district in the nation with the residents struggling to make ends meet.

He further bemoaned the neglect of the vicinity, saying the residents have also been complaining bitterly about their poor water system.

Hon. Kokofu held strongly if the President has so much money to dash out, he should remember his own people and put measures in place to improve their living conditions.

"When you go to the poverty map designed by the government, it is the highest debt inequality in Northern Region. It is the third highest debt of poverty in the Northern Region. 7th poorest district in Ghana; 79.4% of the people there are below the poverty line of 3 cedis 50 pesewas," he told host Kwami Sefa Kayi.