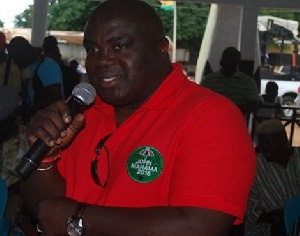 Chief of Staff Julius Debrah has said the Ashanti Region will become the entrepreneurial paradise of Ghana in the next administration of President John Dramani Mahama.
Mr Debrah, who is in the Ashanti Region on a five-day campaign tour, said the area was in the best position to boost industrialisation and entrepreneurship considering the readiness of the people to explore available opportunities.

Mr Debrah, who was addressing journalists in Kumasi, said the National Democratic Congress (NDC) government under President Mahama would continue to boost economic activities by supporting the citizenry.
"Industrialisation can thrive in Ashanti again. If you look at the people in the region, they are by nature entrepreneurs; they have the flair for entrepreneurship. If you pick from the timber industry to commerce to construction, you always see that people within the Ashanti Region are good at it. Even if you look at farming, anything they set their minds to do they make sure they do it properly and they become very successful and, so, as a government you are serving the people better if you can lend a hand or give them a push to something that they already have a competitive urge and those are the things that inform our decision to boost entrepreneurship and industrialisation in the Ashanti Region if the president gets a second nod," he stated.

"Talking about industrialisation, there are segments within industrialisation. There are people interested in small enterprises, others will be interested in medium enterprises, and others in large-scale manufacturing activities. So, our objective and aim cover all these. For example, in China they will say Beijing is the political capital of China. If you pick Shanghai, they will tell you it is the financial capital of China; Guangzhou is the trade hub. Our thinking is that Ashanti should be the entrepreneurial paradise of Ghana in the next administration of President Mahama."