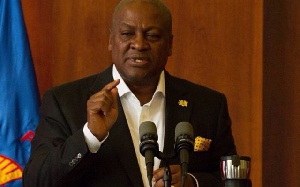 Wed, 26 Oct 2016 Source: GNA
Mr Isaac Asai Odamtten, the Tema Metropolitan Chief Executive has dismissed the prediction of the UK based research group- the Economic Intelligence Unit (EIU), that President John Dramani Mahama would lose the December 7, general election.
He said President Mahama, Flagbearer of the ruling National Democratic Congress (NDC) would win the elections to shame the EIU.

"We have seen predictions like this before, In 2012, for instance when Professor Adu Bonna, based in the United States predicted that Nana Addo Dankwa Akufo Addo was surely going to win the election," he told the Ghana News Agency in an interview.
Mr Odamtten said the electoral victory for Nana Akufo Addo of the New Patriotic Party was one of the erroneous predictions of the EIU.

He predicted that just like how the NPP Presidential Candidate lost in 2008 and 2012 elections, he would lose again in 2016.
Source: GNA