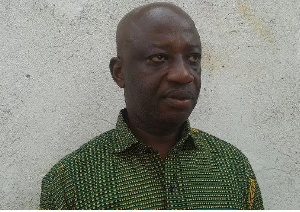 Reverend Thomas Kusi Boafo has invoked the wrath of God on himself should he use his current position as Chief Executive Officer (CEO) of Public Sector Reforms to steal from the state.
"We will not tolerate some of these corrupt acts in this country. I have said it that the day I will steal from the state if God does not strike me dead…..If he fails to kill me for doing so I will convert to a traditionalist and worship gods", he said.

The former Economics lecturer at the Kumasi Technical University said some elements in the previous administration established a grand scheme through which they used in siphoning funds from the state making the taxpayers look stupid ruining various state institutions and as a result, they can not function effectively.

"The former government was terribly bad and based on what I have seen if the President fails to jail some persons I will campaign against him in 2020. I have told the President", he warned.
He observed that if he was that corrupt, this is the period for him to have also enjoyed his booty by dipping his hands in the state coffers to enrich himself at the expense of the state.

"If it was so, this is the period it would have been rosy for me to also enjoy because it is now our term. This would have been the period I will award contracts. The World Bank has given us $250 million to use for reforms. When my wife is going to school, he will be driving in two V8 vehicles in a convoy carrying my children to and from school. I could have also taken advantage to enrich myself. Establish a drinking spot for people to drink to stupor and dash vehicles", he stated.