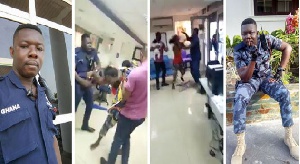 The governing New Patriotic Party (NPP) has said it is "appalled" at the conduct of a police officer who assaulted a female customer of Midland Savings and Loans at its Shiashie branch in Accra last week.
The party said the action of the officer, Frederick Amanor also known as Skalla, was "reprehensible, barbaric and unconscionable."

They have called on the police hierarchy to act swiftly to bring him to justice and make public the outcome of their internal investigations.

The NPP, in a statement, further said it is worried about developments in certain parts of the country regarding actions taken by some police officers on the civilian populace.

Below is the full statement:

NPP'S STATEMENT ON RECENT DEVELOPMENTS REGARDING POLICE-CIVILIAN RELATIONSHIP IN SOME PARTS OF THE COUNTRY
The NPP has learnt with much concern, some worrying developments in certain parts of the country regarding actions taken by some police officers on civilian populace, which actions have legitimately generated national opprobrium and condemnation from the general public. The first incident involves the killing of some seven young men in Kumasi by the police on suspicion of being armed robbers.

However, this suspicion has since been vehemently contested by many a people including residents of Asawasi, where the deceased persons hailed from. These residents, in registering their protest at the wanton killings of their own, have been demonstrating and demanding for justice in the matter.

The NPP is deeply concerned about the development which is increasingly becoming volatile. While commending and appreciating the efforts of government in electing to set up an independent committee to investigate the matter, the party, under the circumstances, is also appealing to the aggrieved residents of the Zongo community to exercise maximum restraint as the investigative processses unfold in order to unravel the full facts and apply the appropriate sanctions.

The second incident involves a brutality meted out by an armed police officer to a middle-aged woman who was carrying a baby at the Shiashie branch of MIDLAND Savings and Loans Company. In a horrific video which had gone viral on social media provoking public resentment, the woman, a customer of the bank who had gone there to withdraw her savings, was seen being helplessly beaten and manhandled by the officer who dragged her on the floor until she exited the banking hall.

The NPP is appalled at the conduct of the police officer which the party finds very reprehensible, barbaric and unconscionable. This is worrying particularly because it is the primary duty of the police to ensure the safety and protection of the citizenry and not assault them no matter the provocation. The primary law enforcers can certainly not be the breakers of the very laws they are supposed to enforce.
The party condemns this cruelty in no uncertain terms and adds its voice in calling for severe sanctions to be meted out to the police officer, whose disgraceful action has brought the name of the Service into disrepute and affected the sensitivity of the Ghanaian people. His erring conduct is thus, clearly at variance with the principle of professionalism and democratic policing which the nation expects from our men in uniform.

The NPP expects the police to act swiftly in bringing him to justice and making public the outcome of their internal investigations. There is no substitute for maintaining a high degree of public confidence in police administration. Finally, the party hopes that all stakeholders will play their role appropriately to improve police-civilian relationship for love of God and country.

...Signed...

JOHN BOADU

GENERAL SECRETARY