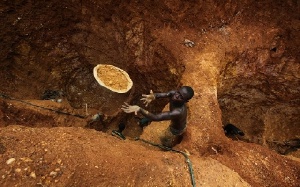 The mining sector will be reclassified to enable effective monitoring and supervision and by so doing, mitigate the damage caused to the environment, President John Mahama has said.
At the launch of the Gold Coast Refinery in Accra on Friday, Mr Mahama said the "mining sector today contributes 14% to government's Gross Domestic Revenue, according to the Domestic Tax Division of the Ghana Revenue Authority (GRA)."

"The growth in the sector has, however, no been without cost. The major cost has been in the environmental damage resulting from mining activities," he noted.

According to him, laws and regulations are being put in place to ensure that mining is done in a sustainable way.
One of such measures, Mr Mahama said, is the reclassification of the sector by separating medium- from small-scale artisanal mining.

"The new classification will improve monitoring and supervision of the sector. It is also essential to identify and register all earthmoving equipment used in the sector so that we can ameliorate the damage caused by the use of these equipment," he said.