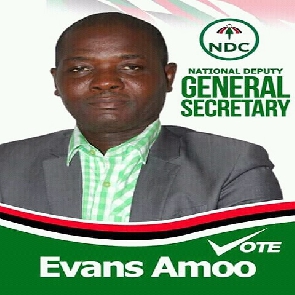 An aspiring Deputy General Secretary of the opposition National Democratic Congress (NDC), Evans Amoo has vowed to empower the grassroots of the party across the country if he is elected.
The party has scheduled November 3 this year to elect new national executives at Trade Fair in the Greater Accra Region.

Already, branch and regional executives of the party across the country have been elected ahead of the national executive elections in November.

Currently, about eleven candidates including George Lawson are contesting for the Deputy General Secretary position.

According to Evans Amoo his leadership will ensure the grassroots of the party is financial empowered for victory 2020.

"I think it is my time and time for NDC and Ghana to make a change to bring a different phase of politics, so my coming into politics and contesting the deputy general secretary position is to help bring that transformation that Ghana needs at this time. Grassroots are the engine and managers of the party because I am one of them. I have been a grassroots person all along and understands them better than anyone else. Almost all the work of the party is done by the grassroots".

"There are several programs I will be rolling out if giving the nod, all my promises are about the grassroots, improving the financial status of the grassroots, human resource development, human development program, pink sheets project and several others that I have outlined to empower our grassroots system".
He also explained the key programs he intends to roll out in order to curb the seeming rift that usually exist between MPs and constituency executives of the party, particularly during elections.

"There are several times that there is developed conflicts between the MPs and the constituency executives, I propose that there should be a desk that specifically have to handle matters like that. Not only so, I will initiate a program to train the constituency executives and let them know their core functions and their relationship with the MPs as well as let the MPS know their responsibilities towards the executives".

"It is painful to fight and work leaving your family and work for an MP to win an election, and after the MP will neglect you and pick someone else, as his assistant or special aide, this must really be a thing of the past. My program will focus on creating that co-existence between the MPs and the constituency executives" he added.

Mr. Evans Amoo also criticized incumbent NPP government for engaging in what he describes as deceitful governance.

"That deceptive kind of politics by the NPP must be reversed by the NDC in 2020, we have to let Ghanaians know that politics is not about deceiving people. We have to remove that veil of deception, lies and hypocrisy that has engulf the Akufo Addo led government since it took office".