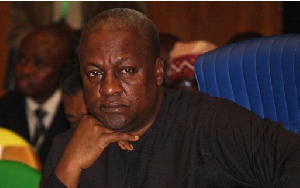 NPP Ashanti Regional Secretary, Sam Pyne has chided former President John Dramani Mahama over his comment that the opposition National Democratic Congress (NDC) will reject a flawed election result by the Electoral Commission (EC).
Ex-President John Mahama, delivering a speech on Wednesday, June 10 to mark the NDC's 28th anniversary, warned the Electoral Commission saying ''as leader of the NDC, I wish to serve notice that we shall do all our parts to ensure that our country remains peaceful and that the electoral process proceeds smoothly, but let nobody assume that we will accept the results of a flawed elections''.

Contributing to Peace FM's ''Kokrokoo'', Sam Pyne wondered why the former President would make such a comment when it is his party that is asking their members and supporters not to participate in the mass registration exercise scheduled to begin on Tuesday, June 30, 2020.

Sam Pyne opined that Mr. Mahama is only finding an excuse for the NDC members and supporters ahead of his overwhelming defeat to happen in the December elections.
''NDC has started to prepare the grounds to reject the results of the election...He's (John Mahama) toying with the mindset of his party members and supporters.''

He further asked Mr. Mahama to concentrate on selecting his Running mate and not to question the integrity of the Electoral Commission.

''You haven't even selected your Vice. When you say it, you attribute it to COVID-19. You can hold 28th anniversary but you can't select your Vice Presidential candidate and you turn to blame somebody," he told host Kwami Sefa Kayi.