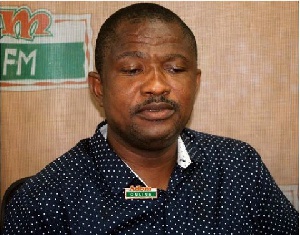 One of the defeated candidates who contested the National organizer position at the just ended 9th National Delegates congress of the opposition National Democratic Congress (NDC), Solomon Nkansah, has disclosed on Rainbow Radio 87.5FM that he had wanted to pull out of the contest because he knew he was going to lose.
The former communications officer of the NDC told Kwabena Agyapong that, he was even surprised he polled the over 300 votes after results were declared.

Mr Nkansah further indicated that he had to even hire chairs on credit on some occasions when he went to meet with delegates before the polls.

When asked if he lost because he could not pay delegates to vote for him, Mr Nkansah clarified that he suffered a financial setback and was not about buying votes of delegates but also getting the resources for his campaign was difficult.
He also said people had the impression that he had a lot of cash but disputed that notion and insisted that he could not afford his campaign and that also affected him.

According to him, his campaign suffered logistics and financial setbacks and had the intention of pulling out but could not.