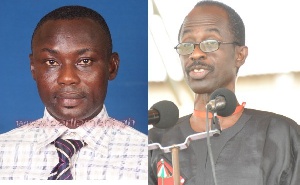 The General Secretary of the governing National Democratic Congress (NDC), Johnson Asiedu Nketia has described the NDC Member of Parliament Afram Plains South, Joseph Appiah as a thief.
According to him, the said MP is a known criminal who is currently on the wanted list of INTERPOL for grievous crimes he committed in New Zealand and Australia.

Barely two months to the December 7 elections, the NDC withdrew the MP who was the party's Parliamentary Candidate for the area from the contest and replaced him with Eric Osei Owusu.

The party's decision followed an Accra High Court in August which granted an application for interlocutory injunction against Joseph Appiah Boateng.

The plaintiff Dickson Adjei Danso prayed the court to restrain the defendant from campaigning for the December polls until a final determination of case.

Reports say the incumbent MP, angered by his inability to contest the election is campaigning against his own party with seven days to the election.
But addressing a crowd of NDC supporters in Afram Plains South urged party supporters to ignore Hon. Appiah Boateng as the NDC cannot continue to work with a criminal.

"We've gone for documents from Interpol bearing the photos of our sitting MP, Joseph Appiah Boateng which indicates that Interpol is wants him arrested for crimes in he committed in Australia and New Zealand. NDC is not a party of thieves. So just as there's a fight against thieves and criminals in Ghana, we NDC also will expose any thief in our midst. We will not shield a thief to represent us in Parliament. The report from Interpol made it impossible for Joseph Appiah Boateng to file his nomination for the December 7 Parliamentary election."

Asiedu Nketia narrating further, said: "In the Interpol report, it is stated that the MP was arrested in New Zealand, furthermore he's changed his names more than six times, all the names he's used before are in that report. Where ever he is now, if I were him I would have remained quiet and pray that no one takes me on for entering Parliament illegally."

He continued: "If anyone knows Joseph Appiah Boateng, he should tell him that he's not part of the December 7 election, he should pray that someone does not haul him to court to demand that he refunds all the salaries he's taken since becoming an MP and also being jailed. Maybe the NPP has promised him that they are going to win the upcoming election and will not jail him when they assume power, that is why he's doing their dirty job. We wish him the best."

Asiedu Nketia added: The university he claims to have attended abroad has come out to deny him, and so just as I have said he has a lot of cases against him and we are going to use legal means to deal with each issue one after the other."