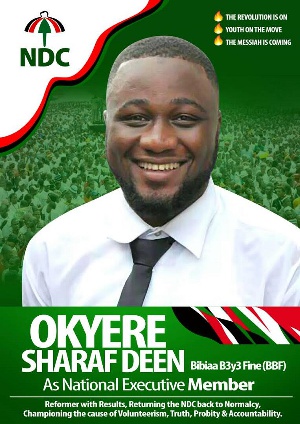 Thu, 6 Sep 2018 Source: Mohammed Saani Ibrahim
Sharaf Deen Okyere has withdrawn from his bid to become a National Executive Council (NEC) member of the opposition National Democratic Congress (NDC).
According to the young NDC stalwart, he decided to withdraw from the race after a wide consultation and counsel from party elders and opinion leaders.

Speaking exclusively to this reporter in Accra, Mr. Sharafdeen, who is affectionately referred to as the "Messiah" by his supporters noted that he has other specific roles to play in ensuring the NDC returns to power in 2020.

"This roles I believe need my expertise and competences as well as full concentration to execute for the umbrella party" he said.

The withdrawn contestant used the opportunity to thank his supporters, advisers and financiers for believing and supporting his candidature until this decision was arrived at.

We have indeed taken a huge step forward and I want to thank everyone for the fantastic and unwavering support given me during the past few months"

Undoubtedly, he expressed his heartfelt appreciation and gratitude for the belief shown in him and commitment to the cause of current revolution of the youth within the NDC and beyond.
On whether his decision to step aside would not have any negative impact in his future contest in the party, Mr. Sharafdeen pointed out that he has spoken to his supporters, campaigners and financiers and all party folks through a viral video message which has been well accepted and appreciated.

"I believe they have accepted my decision because of the bigger picture it portrays. Since the decision was taken, so many calls of encouragement have trooped in from my supporters and I know I always have their support in every future activity I will engage in for the party,"

The NDC faithful who campaigned on the slogan of the " BIBIA B3Y3 FINE " ( BBF) agenda , mentioned that his decision was not taken to break the hearts of his supporters and all those who believed in his agenda but to prove his political worth and skills in another equally vital role.

He is optimistic the BBF agenda can still be executed with or without the "Messiah" when the youth and party followers work hard to rebuild the NDC at the grassroots.

He also admonished the party hierarchy to desist from sidelining the majority of the people who have been working hard to bring back NDC to power.

"After everything is said and done, We are coming back strongly to take back Ghana from the hands of the oppressors and with God on our side, we shall succeed," he stressed.
Source: Mohammed Saani Ibrahim