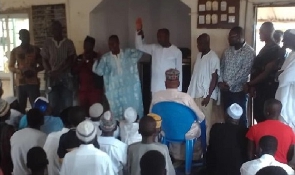 Sat, 27 May 2023 Source: GNA
Mr Nelson Kofi Djabab, the parliamentary candidate of the National Democratic Congress (NDC), in the Krachi East constituency has paid a courtesy call on the Paramount chief of Akroso, Nana Odam-Gyemfi II to seek his blessings ahead of the 2024 general elections.
Mr Djabab after his election as NDC parliamentary candidate for the constituency, is embarking on a thank you tour to express his gratitude to stakeholders who played a vital role in securing his victory.

The parliamentary candidate has revealed his future plans for the constituency, which is a farming area, after receiving the mandate to represent the NDC and the constituency in parliament.

Mr Djabab said he would implement a special policy for farmers, traders, fisherfolks and have a scholarship for students and teachers who wanted to further their studies outside the country.

Nana Odam-Gyemfi in welcoming the parliamentary candidate to his palace, called for decorum and civility in his campaign as well as peaceful and incident-free elections.
Mr Djabab and the party leadership received a special prayer from Alhaji Mohammed Ibrahim for their supportive and contribution during and after their primaries.

In an address to the huge crowd across the political and religious divide, Mr Djabab expressed his gratitude for the tolerance of society, where freedom of worship is recognised and enjoyed in peace and harmony.

He advised that despite any political, tribal, and religious differences, "we all must recognise the commonality of our origin as Ghanaians and must do everything to ensure that there is one Ghana."

He will fellowship with the Church of Pentecost at Dambai Central on Sunday and give thanks to God and seek for his guidance ahead of 2024 elections.
Source: GNA