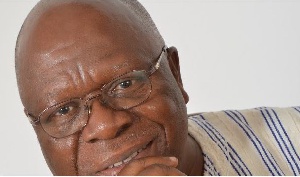 The former Member of Parliament (MP) for Keta Dan Abodakpi has declared his intention to contest for the National Chairmanship position of the NDC.
In a statement dated Thursday, August 23, Abodakpi said: "In arriving at this decision, I am acutely aware of the great challenges facing us as a party and nation at this particular juncture in our history. I am aware of the pain and disappointments suffered by the rank and file of members due largely to leadership failure. I am also aware of their calls for a new beginning, cognizant of the lessons of our recent past.

"Informed by the above realities, I have accepted, as my historical responsibility to our great party, to step forward as your new chairman; to help rebrand and renew our party. Consequently, I shall provide unalloyed, selfless and disciplined leadership to give our mass base a true sense of purpose and ownership by; completing the healing process, truly uniting and closing our ranks and reconnecting fully and totally to our mass base and our core values as a true social democratic party."

Abodakpi will face off with former Attorney General Betty Mould Iddrisu, Ofosu Ampofo and the incumbent National Chairman of the NDC Kofi Portuphy

Below is the full statement of intent

DECLARATION OF INTENT TO CONTEST THE NATIONAL CHAIRMANSHIP POSITION OF THE NATIONAL DEMOCRATIC CONGRESS (NDC)
AFTER MONTHS OF CAREFUL DELIBERATIONS AND CONSULTATIONS WITH ELDERS, SENIOR PARTY MEMBERS, MY FAMILY AND CALLS FROM OUR GRASSROOT MEMBERS, I HAVE DECIDED TO OFFER MYSELF TO CONTEST FOR THE POSITION OF NATIONAL CHAIRMAN OF OUR GREAT PARTY.

IN ARRIVING AT THIS DECISION, I AM ACUTELY AWARE OF THE GREAT CHALLENGES FACING US AS A PARTY AND NATION AT THIS PARTICULAR JUNCTURE IN OUR HISTORY. I AM AWARE OF THE PAIN AND DISAPPOINTMENTS SUFFERED BY THE RANK AND FILE OF MEMBERS DUE LARGELY TO LEADERSHIP FAILURE. I AM ALSO AWARE OF THEIR CALLS FOR A NEW BEGINNING, COGNIZANT OF THE LESSONS OF OUR RECENT PAST.

INFORMED BY THE ABOVE REALITIES, I HAVE ACCEPTED, AS MY HISTORICAL RESPONSIBILITY TO OUR GREAT PARTY, TO STEP FORWARD AS YOUR NEW CHAIRMAN; TO HELP REBRAND AND RENEW OUR PARTY. CONSEQUENTLY, I SHALL PROVIDE UNALLOYED, SELFLESS AND DISCIPLINED LEADERSHIP TO GIVE OUR MASS BASE A TRUE SENSE OF PURPOSE AND OWNERSHIP BY;

COMPLETING THE HEALING PROCESS

TRULY UNITING AND CLOSING OUR RANKS AND;
RECONNECTING FULLY AND TOTALLY TO OUR MASS BASE AND OUR CORE VALUES AS A TRUE SOCIAL DEMOCRATIC PARTY.

IN SHORT, AS YOUR CHAIRMAN, WE SHALL WORK TOGETHER TO BUILD ONE SOLID INDIVISIBLE TEAM WITH ONE TEAM SPIRIT INTO 2020 AND BEYOND.

WHILE MAKING THIS DECLARATION OF INTENT, I WISH TO COMMIT MYSELF UNEQUIVOCABLY TO THE DECISION OF OUR COUNCIL OF ELDERS TO COME OUT WITH A CONSENSUS CANDIDATE AND AN AGREED SLATE. I BELIEVE THIS IS THE BEST WAY TO GUARANTEE PARTY COHESION AND UNITY OF PURPOSE POST CONGRESS. I THEREFORE PLEDGE AB INITIO TO STEP ASIDE AND FULLY SUPPORT THE CONSENSUS CANDIDATE THAT SHALL EMERGE IN THE SUPREME INTEREST OF OUR PARTY.

LONG LIVE THE GREAT N.D.C PARTY. GOD BLESS US ALL.