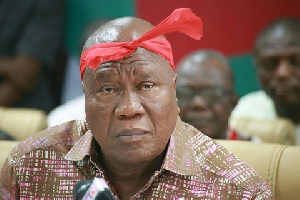 The former Lawra/Nandom National Democratic Congress (NDC) Member of Parliament (MP), Dr Benjamin Kunbour, has noted that it would be in the interest of the party to hold early congress to select a presidential candidate for the 2020 election
Without directly passing a vote of no confidence in ex-President Mahama – who is tipped to return as the NDC candidate – or the current executives of the party, the former minister said, "A party that has suffered this level of defeat with so much internal acrimony and internal pain still in the mind, if we could not take eight years to galvanise that into an electoral victory, I don't see how we can do that within one year or one-and-a-half years."

He said on Class FM in Accra last Thursday that the current constitutional arrangement of the party should not be adhered to strictly since the time for electing a flag bearer would be too close to the 2020 general election.

"…Given all the preparations that are involved, it will mean that by the time you are getting to elect your flag bearer, you will be in 2019," he observed.

Dr Kunbour said the NDC constitution should be 'explored in times of challenges,' adding that the time has come for the leadership of the party to "use those powers to resolve a number of issues, and I guess this is a useful thing we should be looking at."

Dr Benjamin Kunbour, former Defence Minister, claimed that he knew the Mahama-led (NDC) government would lose the December 7, 2016.
He said the signs of defeat were similar to what happened in 1999/2000 when the then opposition New Patriotic Party (NPP) defeated the NDC in the 2000 polls.

"It was possible you could see that defeat was coming because anyone who has been around from 1999/2000 could see a symmetry between the developments that were taking place, particularly a year or a-year-and-a-half in the runoff to the elections," he underscored on GHOne TV's 'State of Affairs' programme recently.

Mahama Floored

In last year's election, the NPP's candidate, Nana Addo Dankwa Akufo-Addo, made sure that then President John Dramani Mahama's dream of a re-election did not become a reality by knocking him (Mahama) out with 5,716,026 votes (representing 53.85%), while Mr. Mahama secured 4,713,277 votes (44.40%).

As if that was not enough, the NDC entered into the current political dispensation as minority in parliament with only 104 seats as against the NPP's 171- having snatched some 49 seats from the former.
Self-Introspection

Dr. Kunbour, who was once indicted by the police for firing bullets inside his own vehicle but claimed it was an assassination attempt, said some leading members of the NDC also knew that the party was opposition-bound.

"I spent a bit of my quiet time doing some analysis and I must say at that time, I was a bit frightened about the parallels and similarities of 1999 and 2000 which eventually led to our electoral defeat at that time. So there was cause for worry at that time," he said.

According to him, the worsening graduate unemployment, leading to increase in membership of the Ghana Unemployed Graduates Association as well as the austerity measures directed by the International Monetary Fund (IMF) were all factors for the NDC's defeat.

External Environment
"The external environment, you don't always control it. Externally, we had gone into an IMF package which the consequences were of very high level austerity. The austerity hit directly at our constituency," he maintained, adding, "There is no way that with the global unemployment, particularly youth unemployment you have in this country, that will not become an election issue.

"In the peculiar case of Ghana, I saw the percentages of graduate unemployment reach an astronomical level to the extent that an association of unemployed graduates had to be formed to articulate these concerns… and that clearly mirrors what exactly was going on in the country. There were many more but they all fed into the package."

Dr. Kunbour, who was once majority leader in parliament, pointed out, "There is no way you can run austerity in this part of the world of an emerging economy in which hardship cannot be wished away. And because you are incumbent, it becomes difficult. You can't say as we take this major step, this is going to be the outcome. It becomes easier for your opponent. They simply look at it and because they have no responsibility at the time, they make a very clear statement so there is no attempt at rationalising the state of the economy. They were in a relative comfort zone."