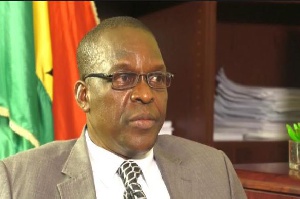 Some constituency executives have stated that Mr Alban Bagbin has worked hard to become a conspicuous figure that cannot be ignored in the forthcoming primaries.
"Having worked so hard from ordinary Member of Parliament through to both Minority and Majority Leader, and now Second Deputy of Speaker, Bagbin has become the obvious choice for NDC."

The constituency executives who were speaking at a news conference in Accra however expressed their displeasure that the primaries were postponef, indicating that no matter how long it would take, Bagbin would still scale over other candidates.

"It is frustrating that we still have to wait till next year before we can elect our leader but we are sure that the National executives of our party had very good reasons for the postponement.

"None the less, this shift is nothing but a postponement of the inevitable which is that Mr. ASK Bagbin will win massively to become our 2020 Flagbearer," Daniel Mawuli Agbesi, a member of the NDC's Western regional Communication team and communication officer of Mpohor constituency

Mr. Agbesi, said Mr. Bagbin's promise to ensure that the party rewarded people who sacrificed for it remained the best message.

"Also, the Second Deputy Speaker of Parliament remains the most marketable prospective Candidate for us with his fierce reputation for incorruptibility,"
Others at the conference were. Albert Afari Anaafi, Deputy Communication Officer for Akropong in the Eastern Region, Mr. Evans Amarh, Deputy Constituency Organizer for Tema East in the Greater Accra region, and Mr. Ben Yamoah, the NDC's Communication Officer for Lower West Akim.

The executives from the various regions in the country re-affirmed their support for Mr. ASK Bagbin. "In the Eastern region, I can report that at least 70 per cent of the delegates on the ground are for Bagbin, and nothing will change our mind," Mr. Albert Afari said.

According to him, "the postponement from December to March next year has frustrated many of our compatriots, but we are not disheartened. We will wait patiently and do what we must do next year."

Mr. Amarh Evans and Mr. Ben Yamoah similarly said that the Greater Accra Region and the Lower West Akim areas had also been frustrated by the postponement but would vote massively for Mr. ASK Bagbin.

Ben Yamoah said for the people in his area, the desire to vote massively for Bagbin was strengthened by deliberate acts of discrimination that were carried out against Mr. Bagbin.

"Where is the fairness in holding our National Delegates Conference and giving the platform for only one Flagbearer aspirant to address the people?
"Meanwhile, during the 9th Congress, Mr. Bagbin pulled the highest crowd with his entrance to the Trade Fair venue. Thousands of the delegates mobbed him and took pictures with him for a long time before security personnel could pluck him away.

"The Second Deputy Speaker of Parliament was one of the first party bigwigs to rush to the Ridge Hospital to visit delegates who were rushed there after they were involved in an accident on their way to the Congress.

"Mr. Bagbin's brilliant performance as Minority Leader under former president Kufuor alone, made him more popular than his opponents in the flagbearership race, even his international awards and his best minister award in 2012 under late president Mills should send a signal that he is the most popular presidential material to lead NDC in 2020"

"I am not surprised that many Ghanaian Chiefs want the nation to honour

Rt. Hon. ASK Bagbin" Mr. Amarh Evans concluded.