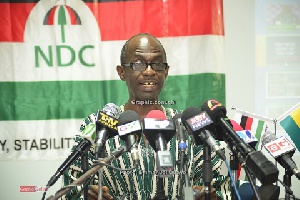 The National Democratic Congress (NDC) has raised concerns with the ongoing limited voters' registration exercise by the Electoral Commission, Ghana (EC).
The exercise, which began on Sunday, is expected to be first held in districts to be involved in this year's referendum for the creation of six new regions.

Before it ends on Tuesday, September 25, the entire country would have been covered via an online voter management system, according the Commission.

But the largest opposition party, the NDC says just a day after the exercise took off, it has detected "serious infractions of the rules, coupled with other organizational lapses which are threatening to compromise the quality of the exercise".

According to a statement signed by General Secretary Johnson Asiedu Nketia on Monday, electoral officers are required to make available for verification by the party agents a daily activity report.

"Unfortunately, this was not done before the beginning of registration nor at the close of the exercise yesterday.
"Our agents could not verify whether or not names had been entered in the register before the commencement of the exercise."

The party also said most of the areas direly needed for this exercise have been cut off due to recent flooding.

"The NDC is therefore calling for special arrangements to be put in place to handle such situations to ensure that these potential voters are not disenfranchised through no fault of theirs."

The party has threatened "further controversies at the centres" if the daily activity report is not made available.