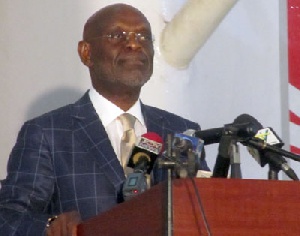 The opposition National Democratic Congress (NDC) 13-member committee set up to investigate the cause of the party's historic defeat in the December 7 polls was 'seized' by disappointed party members in Madina constituency for several hours as the team was bombarded with tonnes of questions, Kasapafmonline.com has learnt.
The maiden programme which was held at the Social Welfare Centre on Thursday started at 2:00pm and closed at 9:00pm and that was after the committee had repeatedly begged the party members and supporters to allow them end the programme and go to sleep.

The Committee which is chaired by Dr Kwesi Botchwey, a former Minister of Finance and Chairman of the National Development Planning Commission (NDPC), is to engage NDC members in all the 10 regions to ascertain the cause of the party's defeat.

It is expected to submit its report within 90 days.

The National Vice Chairperson of the NDC, Anita Desoso in an interview with Kasapa News Sunday disclosed that the Madina event attracted huge numbers of party members including students from GIMPA and UPSA and had over 70 questions collected.

She noted that some of the questions that came up included the supporters wanting to know the relationship that exited between the party and its founder ex President J.J Rawlings when the party was in government and also how the NDC campaign was ran during the elections.
Anita Desoso commended both the committee and party members for spending seven hours of their quality time to deliberate on matters of interest to the party.

"Our supporters are very happy that they have been given the opportunity to ask questions all of which are intended to build the party more stronger for the 2020 elections." She noted.

Former President John Dramani Mahama, who was the flag bearer of the NDC in the December 7 general election, lost to Nana Addo Dankwa Akufo-Addo of the New Patriotic Party (NPP).

Nana Akufo-Addo secured 5,716,609 votes, representing 53.84 per cent of the valid votes cast, to snatch the Presidency from President Mahama, who secured 4,713,277 votes, representing 44.40 per cent.

The NDC also lost more than 40 parliamentary seats to the NPP, which has given the NPP the majority in Parliament. Following the NDC's defeat, a committee was put together by its leadership to investigate the causes of that defeat.