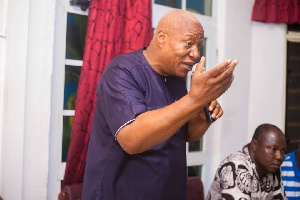 The delegates of the opposition National Democratic Congress (NDC) are overwhelmingly endorsing the candidature of Professor Joshua Alabi to lead their party to wrestle power from the governing New Patriotic Party (NPP) in 2020, spokesperson of the professor, Israel Venunye has disclosed to XYZ News.
The former University for Professional Studies Vice Chancellor who is seeking to be President, is touring the Western Region to sell his ideas to the grassroot ahead of the NDC's national delegates conference in November.

Speaking to Kwame Minkah on Ghana te sen on Radio XYZ 93.1, Israel revealed that the delegates in the region have been "receiving Professor Alabi with so much excitement" and also pledging their support for him as he seeks to lead the party into the next national polls.

He said although they were disappointed in the previous government for reneging on its oars to transform their lives through a good relationship, their hopes in the party got renewed after listening to Professor Alabi's message of unity and transformation which he envisages will win the NDC power in 2020.

Professor Alabi, he said, pledged his unflinching support for the indigenes in all the communities and hamlets he and his team visited in the region.

He has also been sympathizing with cocoa farmers in the region, following the refusal of the government to increase the producer price of cocoa and has promised to change their lives when voted into power.
As a son of a former national best farmer, Israel said, Professor Alabi worked in the farm whilst growing, and knows the plights of farmers hence he is passionate about them and wishes to help improve their lives when he becomes the president.

He said the professor also urged the people he has been meeting in the past days to reject the presidency of Nana Akufo-Addo in 2020 and vote him into power for a total transformation in the lives of cocoa farmers who he refers to as "professionals."

Professor Joshua Alabi on Tuesday interacted with a number of cocoa farmers in Juaboso, Bodi and Akotombra in the Western Region.

On Wednesday, he took his tour to Asankragua and its adjoining communities where he asked delegates to have confidence in him and vote him to lead the NDC.