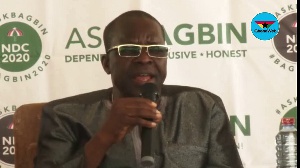 Well Vote for Bagbin NDC Executives Some constituency executives of the National Democratic Congress (NDC) in the Eastern Region have publicly declared their support for the Second Deputy of Parliament Hon. Alban Sumana Kingsford Bagbin who is contesting for the flagbearer position of the umbrella family.
They have also promised to work tirelessly to ensure his victory in the primaries scheduled for December 7, 2018, stressing that the Nadowli/Kaleo lawmaker will get our votes.

According to them, hitherto to their encounter with Hon. Bagbin, they were finding it very difficult to make a choice among the party gurus who have declared their intent to contest for the vacant flagbearer position of the umbrella family.

But after having an encounter with the Nadowli/Kaleo lawmaker in Akim Oda, Sunday, October 22, 2018, their minds are now at ease as to where their votes will go.

Hon. Bagbin, they added, is their obvious choice after demonstrating to them that he is a real grassroots man who understands their problems more than any other candidate and how he intends to solve them when giving the nod to lead the party.

To the delegates, the neglect of the Party and members will be a thing of the past.

Cynthia Gyekye, Achiase constituency Womens Organizer said "Hon. Bagbin has made us happy today because all that we wanted to hear is what he has told us.
So, all of us are happy that he is contesting the flagbearer position of the party. It is our hope that he wins the position and subsequently becomes the President of the Republic to govern us."

Godwin Asiedu, a co-opted constituency member and a Branch Secretary in the Abirem constituency also had this to say: "When I got to know Hon. Alban Bagbin, I got to know that he has a future and thinks about the grassroots members.

He is such a person we want to lead us as a party and so I will urge him to keep in touch with the branch executives and bring them onboard because we wont work again for someone nowhere to come and chop again.

I was even beaten to the pulp because of President Mahama but at the end of the day, I got nothing from my sweat.

No monkey dey work baboon dey chop again and I will vote for Hon. Bagbin."

Some of the constituency executives also said prior to their meeting with the Second Deputy Speaker of Parliament, their perception about him wasn't that encouraging.
However, after their encounter with Hon. Bagbin, they can confidently say without any shred of doubt that the former Majority Leader is the best person to lead the NDC to win the 2020 general elections.

The Ofoase Ayirebi constituency Womens Organizer, Madam Linda Ahinkorah said before coming to the meeting, "I had my own perception about Hon. Sumana Kingsford Bagbin. But listening to him today, I have realized that he is a true leader and has really taught us something good.

I am now humbled. I see that when he is given the opportunity to lead the party, he can lift the party up to a level that we all desire.

So, I call on all of us to support and vote for him to take us to the promise land. "