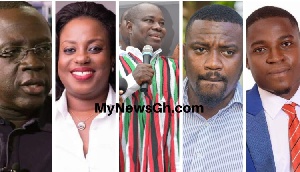 Award-winning Actor John Dumelo who previously disclosed that many have called on him to contest the position of National Youth Organiser of the opposition National Democratic Congress (NDC) is likely to join four other big names eyeing the seat of the Emmanuel K. Agyarko in the by-election to take place in 21 days, MyNewsGh.com has learnt.
Mr Dumelo who resides in constituency and is a bonafide member of the NDC is seen to be a highly popular face who will appeal to the constituency's young voters particularly at the University of Ghana where the young intellectuals have continually rejected the NDC.

The actor who has appeared on several campaign platforms of the NDC in the run up to the 2016 general elections is yet to officially state his position about that.

About running for the NDC youth job, he had said, "Honestly speaking I've been getting a lot of calls" to run for the position.

However, the 34-year-old actor thought "it's too early" to talk about this although he acknowledged that the "feeling is deep".

"I'm a youth and I am committed to championing the cause of the youth in this country; whether NDC or the governing NPP [New Patriotic Party]…"

"So the feeling is there. I just want Ghana to develop in the right direction whether NDC or NPP," Dumelo told Doreen.

It is unclear if he will run.

Controversial V8 saga

The actor broke his silence on the controversial seizure of his Toyota V8 vehicle said to belong to the state and allegedly gifted him by the administration of former President John Mahama.
He said he bought the vehicle from "somebody" and "at the point, I wouldn't say it's a government car or it's not a government car".

"At some point, some people came and said it was government car and said 'okay keep the government car'", he explained.

He said: "We dealt with it and I bought a new car." He fell short of disclosing whom he bought the car from.

According to him, it was not a difficult decision to "let it go" because "it's just car" which he could have lost in an "accident or anything".



"In 2010 I bought a car; in 2011 I bought another one; in 2013 [and] 2015 I bought another, so it's something that I can afford," he stated.

The V8 remain the most visible scandal on him.

Delali Kwasi Brempong

Mr Delali Emmanuel Kwasi Brempong is a pharmacist, with more than 30 years' experience in Ayawaso West Wuogon politics, but who was nevertheless defeated by the late Emmanuel Agyarko in the 2016 election by a wide margin. He is believed to be popular among delegates of the party and is likely to come back again having learnt some lessons from 2016, MyNewsGh.com was told.
He has promised to tap into available resources to bring more development to the area and NDC if he gets another chance.

Having already identified with the people at the grassroots and other levels, Mr Brempong, who turned 58 this year, is also an entrepreneur and chairman of Eli Pharmaceuticals Limited.

He is admired for being selfless and humble.

"I have always been among the people, and they know me as a listening and humble servant. I want them continue to have confidence in me and vote for me and President John Mahama for us to continue changing lives and transforming Ghana," Mr Brempong said in 2016 before he lost.

Kwame Awuah Darko

Kingsley Awuah Darko is a former managing Director of the Bulk Oil Storage and Transportation Company (BOST) & Tema Oil Refinery (TOR) and a Banker by profession.

He was a candidate for the NDC in 2012. He lost marginally by less than. 2000 votes and is believed to have performed creditably well compared to most NDC candidates in the past owing to his family and popularity as a wealthy indigene of one of the top upper class areas of the constituency.

Mr Awuah-Darko has served his country in several capacities including the Directorship of SIC, City Investments Co. Ltd, and Roman Ridge School.

He was also a project officer for Vanguard Assurance Co. Ltd. Kingsley Awuah Darko, born 4th January, 1969, holds a BA Law (Hons) from the University of Science and Technology (now KNUST), a Post-graduate.
He holds a Diploma in Management and MBA (Henley Management College) now Henley Business School, Greenlands, Henley on Thames, United Kingdom.

His Business experiences stretch beyond the shores of Ghana through other African countries to various EU destinations, MyNewsGh.com learnt.

He was Managing Director of Matrix International Holdings UK Ltd, Founder and Chief Executive Officer of Matrix International Holdings, an international remittance company licensed and regulated by the UK Financial Services Authority (FSA) with operations in seven EU countries and Eighteen African Countries with an annual turnover in excess of USD 200 million.

He has however been in the news recently for alleged illegal transfers of BOST money to Chief of Staff Julius Debrah, a transaction currently under investigation by the Economic and Organized Crime Office (EOCO). He has denied wrong-doing and said the account was not illegal and the money did not end up in his private pocket. It is alleged that government at one time declared him wanted as he has since the defeat of his party relocated to South Africa for fear of prosecution or "witch-hunting". He has not expressed interest in the Bye Election, but he is considered the favourite of the grassroots and the party, and is seen to have the wealth needed to bankroll his campaign from start to finish without assistance and could win.

Obuobia Opoku Darko

Born August 22, 1977, Obuobia is a Ghanaian politician and journalist who was the NDC 2012 and 2016 Parliamentary candidate for the Weija-Gbawe constituency seat. She lost woefully and is believed to be one of the names to be tapped for the Bye election.

She was Deputy Executive Secretary of the Ghana Free Zones Board.

Being the founder of the Obuobia Foundation, Obuobia still continues her philanthropic work by providing support to her constituency through her Foundation.

Obuobia Darko-Opoku lost her bid when she contested the Weija-Gbawe Constituency seat in the 2012 and 2016 elections. She was at TV Africa briefly. She has not spoken about her political future since her 2016 defeat.
Eric Edem Agbana

Many party bigwigs in Ayawaso West Wuogon believe this young NDC youth leader is the best bet of the party to reclaim the seat.

MyNewsGh.com was told the former SRC President holds the key to NDC's chronic defeat on the University of Ghana campus which eventually affects their overall results.

Eric Edem Agbana was recently elected with an overwhelming margin to emerge the Deputy National Youth Organizer of the NDC.

If elected, he would be the second serving youth leader of the NDC to be in Parliament after Haruna Iddrisu.

He is a Coca Cola Africa rising star and has a string of awards for his youth advocacy.

He is also Founder of United Volunteers Network. He has worked as a Radio Host, a Policy Analyst, a Development Finance Professional and a Social Entrepreneur.