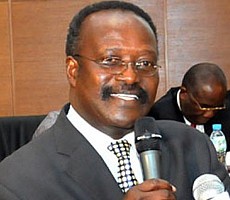 Mon, 26 Nov 2012 Source: Deborah Wiafe-Agyei
Minister for Food and Agriculture, Kwesi Ahwoi, has revealed that despite the political mudslinging from the opposition parties in the country, the National Democratic Congress has succeeded in achieving in accomplishing 95% of its manifesto promises on agricultural sector.

Speaking at the final edition of the Citi FM Roundtable Discussion for the year, Mr. Ahwoi stated that "Ghana, under the NDC government has shifted her agricultural development paradigm from focusing on subsistence agriculture to accelerated modernization and commercialization of Ghanaian agriculture".


"Ghana used to import $500-800 million worth of rice. The children enjoying the school feeding used to be fed on imported rice. Now 3000 metric tonnes of locally grown rice was fed to the school feeding programme at the GHc 6 million in February and March. In October and November another 3000 metric tonnes had been ordered by the school feeding programme. So not only are we creating a market for the farmers, but also growing our children to be self reliant and develop the taste for local food, goods and services."


The Agriculture Minister added, "We have secured a $100 million dollar OPIC fund to build four modern day markets. One in Mankessim, Techiman, Tamale and Agbogbloshie. We are producing 59% of our rice requirement and have cut down rice importation by 30% as at last year. The youth are not interested in agriculture because of the drudgery they see in agriculture that is why we the NDC have been talking about modernizing agriculture through supplying the relevant machinery that will make production faster."


"Last year, youth engaging in Agriculture had increased from 47,000 in 2009 to 80,000 in 2012. An Israeli company linking up with the National Service Secretariat who have secured an $80 million facility to establish this kind of scheme, where National Service personnel who go into agriculture will live on the farms. This scheme is likely to take off in 2013."


"The NDC did not tamper with the food and agriculture development sector we came to inherit. We found the policy relevant then, as we do now," he said.


Mr. Ahwoi therefore appealed that the Agricultural plan adopted by the ruling NDC should not be "thrown away" to be replaced by an entirely new one.

He however suggested, "there could be modifications and amendments here and there as we go".


The Minister further indicated that the NDC has looked at the food and agriculture sector development plan which "has six fundamental key objectives".


"The NDC will ensure food security and emergency preparedness as a country by ensuring there is enough food to go round when disaster strikes."


"When a country builds itself in such a way that it is able to depend on its own resources as much as possible, [that] is what we term as food security and emergency preparedness," Mr. Ahwoi added.


The Agric sector minister further disclosed that an 80million dollar loan facility has been secured to build houses for the youth who were getting into Agric in the rural areas.

Source: Deborah Wiafe-Agyei