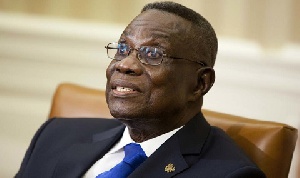 The former Central Regional chairman of the opposition National Democratic Congress (NDC), Bernard Allotey Jacobs has put forward that allegation of misconduct leveled against him by his party is because of his close relations with the late Professor John Evans Atta Mills.
Allotey who now describes himself as a social commentator was suspended from the NDC on May 6, 2020 based on what it described as 'his consistent anti-party conduct'.

The party's General Secretary, Asiedu Nketia has since explained that the former Central Regional Chairman could be expelled from the party based on the gravity of his offence when found guilty by the party's disciplinary committee.

He continued that Allotey Jacobs has abused the party's tolerance level as the party's Chairman, Ofosu-Ampofo has cautioned him on several occasions to desist from his negative public utterances about the party but to no avail.

In a reaction, Allotey Jacobs stated that the excuses being proffered by his party are mere propaganda and they should not forget that he is a master propagandist although he has decided not to pride himself with that.

"Kwame, let me issue a disclaimer. Last week when I came here did I talk about any green book? I only said if President Akufo-Addo says he will build 88 district hospitals, it will be premature for my party to criticize him. They should wait.
"I even went further to say that President Mahama gifted Central region with 10 polyclinics and all of a sudden, I strongly believe it's coming from my party. They posted on my timeline that I said President Mahama is corrupt even in opposition. President Mahama knows I will not in any way denigrate his name. I have been saying time and again that President Mahama is not corrupt so how can I turn around and say otherwise."

"This kind of inferior communist tactics, if you ask Kwaku, the time that we established P&P, the likes of us used to attend advance training school to study propaganda. I won't boast about it but trust me, I'm a master propagandist and an organizer." He told Kwami Sefa Kayi on Peace FM's 'Kokrokoo' program.

Mr. Allotey Jacobs continued that, the move by the party has been orchestrated to pitch him against the grassroots organizers of the party but he is not deterred.

"They hate me because I came too close to Prof. Mills but they should understand that Mills only recognized my contributions to his successes. I am not deterred of their continuous efforts to pitch me against the grassroots organizers of the party." Embattled Allotey Jacobs stated.