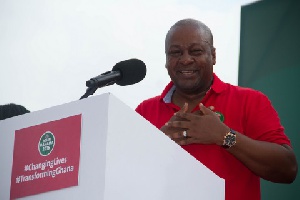 Former President John Dramani Mahama, has advised members of the National Democratic Congress (NDC) to overcome the painful defeat of the party in the 2016 elections.
He said the aftermath of the defeat which has been characterized by internal bickering, blame game and rancour over who contributed what, must be put aside and all must work towards making the NDC battle ready for the 2020 election.

"We needed time to overcome our defeat. After 8 months of blame game, the time has come for us to put the past behind us and focus on the picture of 2020. In the aftermath of the defeat, there will be disagreements. We must put the past behind us and look forward towards the battle of 2020", he said while addressing party supporters after a Unity Walk in Tamale during last weekend.

He observed that the NDC is still alive urging them to take solace in the fact the NDC leaving power was a blessing in disguise as it paved the way for Ghanaians to appreciate the contributions of Ghanaians.

"The NDC is still alive……we left power for Ghanaians to appreciate our contributions. No amount of propaganda can make the people oblivious of to their own living conditions because they are living it"
The former charged the party to take up two major responsibilities towards becoming a formidable party to reckon with ahead of the 2020 elections

"A formidable opposition and be the voice of the voiceless and point out where government is going wrong so that they can correct their mistakes in the interest of Ghanaians. We can only do that if we are a united party.

Reorganize, re-strategize, analyze the reasons why we lost the last elections and prepare ourselves for next elections in 2020. The tongue and the teeth are both in the mouth. Once a while they quarrel, the teeth bite the tongue".