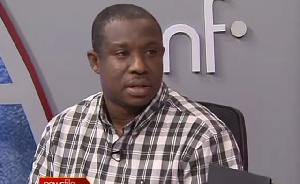 Former Member of Parliament for North Dayi Constituency George Loh says the National Democratic Congress (NDC) never had a biometric register contrary to claims that they did. According to him, what the NDC had prior to its 2015 primaries was an "extended" manual registration.
He explained that a biometric registration requires the capturing of the ten fingers with a biometric device but nothing of that sort happened. The legal practitioner made this revelation while speaking on 3FM's Sunrise on Thursday.

Mr Loh said he was only given a card without any biometric details of his taken prior to the party's primaries in the North Dayi Constituency.

This revelation comes on the back of the largest opposition party discrediting the 'biometric' register it has had and going back to a manual register.
The National Chairman, Kofi Portuphy, on Wednesday said as per the recommendation of the election review committee led by Dr Kwesi Botchwey, "NEC has voted for the scrapping of the register used to conduct the party's internal election last year".

But the former North Dayi MP said even the CD-ROM given him for his constituency's primaries was blank. He said he had to restrain his supporters from protesting. He lost that November 21, 2015 primary to Joycelyn Tetteh, 27.