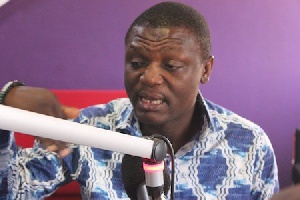 The National Democratic Congress (NDC) is not bothered with the 50,000 Ghana cedi filing fee for the presidency announced by the Electoral Commission, National Organiser of the party Kofi Adams has said.
The EC last week after an Inter Party Advisory Committee (IPAC) meeting pegged the filing fee for the presidential slot at GHc50.000 while that of parliamentary stands at GHc10.000.

These fees according to a section of the general public and some prospective candidates in the forthcoming elections are exorbitant.

But, speaking Wednesday on Joy FM, Adams said the governing NDC is not bothered about comments that the fees are excessive noting that the party is capable of meeting the demands of the commission.
According to him, the NDC doesn't meddle in the administrative issues of the Electoral Commission and that the party is "very much convinced his Excellency the President is winning the elections and so therefore the filing is not really a bother."

"We are going to get our money back. It is more like paying a deposit. Our parliamentary candidates are wining across the country and so it is not going to be a bother to us. We are getting our monies back," Mr. Adams who is also the NDC's 2016 campaign coordinator added.