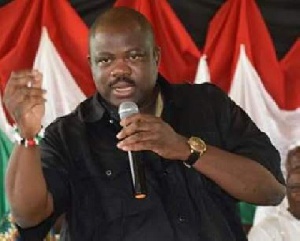 Wed, 21 Nov 2018 Source: Daniel Kaku
The newly elected National Organiser of the opposition National Democratic Congress (NDC), Joshua Hamidu Akamba has pledged his total commitment to work harder to recapture political power from the NPP in 2020.
At the end of keenly contested election held at Fantasy Dome, Trade Fair Center in Accra on Saturday, November 17, Joshua Akamba emerged victorious polling 3087 votes to beat his contenders, Baba Jamal who had 2106 votes, Yaw Boateng Gyan who also pulled 1842 votes, Mahdi Gibrill 599 votes, Solomon Yaw Nkansah 306 votes, Jemima Anita Desoso 300 votes and Enoch Amoako- Nsiah 74 votes.

Nine (9) votes were rejected.

In all, over 9,000 delegates voted for 65 candidates that contested 10 vacant positions at the congress which was supervised by Electoral Commission of Ghana.

The congress, which began on Saturday entered into Sunday becoming what may be described as the longest congress by any political party so far.

It however saw the adoption of some motions of amendment to the party's constitution and the election of all national executives.
65 candidates vied for various positions. The positions were National Chairman, Vice-Chairman, General Secretary, Deputy General Secretary, National Organizer, Deputy National Organiser, Communications Officer, Deputy Communications Officer, National Executive Committee Members and the Zongo caucus coordinator.

This particular congress, the NDC believes will re-energize the party to recapture power in the 2020 general elections.

Speaking to Daniel Kaku after his victory, Akamba expressed his profound appreciation to the delegates for the confidence reposed in him and electing him as the party's National Organiser to steer the affairs of the party's organizational machinery for the next four years.

"I wish to thank all members of our party, especially our dignified delegates for the confidence reposed in me and further assure all party folks, that I will work harder to serve the interest of the ordinary footsoldier, who owns the party", he said.


He emphasized "Fellow Akatamansonians, I am overwhelmed by your massive show of love and support. Throughout my campaign for the National Organizer position of our dear party, I received the warmest of receptions anyone could get from delegates across the country and I am extremely grateful for replicating that, through votes on the day of elections".

He, therefore, used the opportunity to thank Ambassador Alhaji Said Sinare for supporting him throughout his campaign across the country.

"Let me hasten to mention that I am very grateful to my big brother, Alhaji Said Sinare, for all the support he gave me", he acknowledged.

He promised "I am committed to working assiduously to putting the party on a right footing for Victory 2020 and beyond".

He, therefore, used the opportunity and called on all NDC members to embrace unity as they journey towards elections 2020 to recapture political power from the NPP.
"I will therefore use this medium to call on all to embrace Unity as we journey towards elections 2020", he appealed.

He added, "Let's have patience with each other and forgive one another, so that we can collectively rescue Ghana from the hands of this Substandard Akufo-Addo led government".

He further said "Thank you all and may the Good Lord be with us All".

Joshua Akamba who has already declared his total support for former President John Mahama candidature to become the party's flagbearer for elections 2020, reaffirmed his decision of supporting him to become the party's flagbearer.

He called on all NDC members to support Mr. John Mahama to recapture political power from the NPP government.
Source: Daniel Kaku