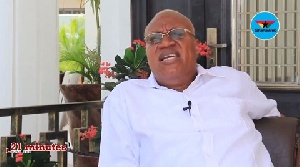 A flag bearer aspirant of the National Democratic Congress (NDC), Professor Joshua Alabi, has said he is not disturbed by the huge cheers his fellow contender former president John Dramani Mahama received at the venue of the party's 9th National Delegates Congress on Saturday, 17 November when he addressed the party on Saturday.
Apart from Mr Mahama, former president Jerry John Rawlings also addressed the charged crowd of supporters.

Prof Alabi has, however, played down the significance of the cheers.

"The crowd cheered him on because he is a former president not as a flag bearer aspirant.

"We all acknowledge the work of our former presidents and, so, we all cheered on former presidents John Mahama and Jerry Jon Rawlings when they all spoke to the crowd. I am not perturbed at all", Prof Alabi said.
He added: "I will win the flag bearer contest and make Nana Addo a one-term president because I have a message to the party and Ghanaians."