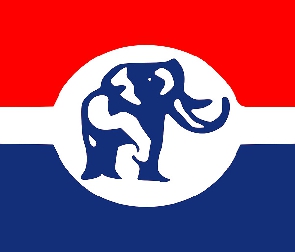 The governing New Patriotic Party (NPP) has denied allegations by the National Democratic Congress (NDC) that it was collaborating with the Electoral Commission to illegally insert the name of one Charles Opoku into the Voters Register of the Assin North Constituency.
The NPP, in its response to the allegations, noted that the NDC's statement is replete with spurious claims and baseless allegations.

According to the NPP, the statement by the NDC is intended to mislead the Ghanaian public.

It said the NDC issued the statement to prepare the ground for them to reject their imminent embarrassing defeat in the Assin North by-election.
"The NPP emphatically debunks the allegations that the Party "is in a plot to illegally insert the name of an unqualified NPP Parliamentary Candidate into the Assin North Register". Over the years, the NPP has worked hard to maintain its enviable position as the pacesetter of multiparty democracy in Ghana, which includes the strengthening of independent democratic institutions of the State like the Electoral Commission. As such, we cannot be the Party that would engage in any acts that would jeopardize the nation's democratic gains.

"The NPP has no Parliamentary Candidate for Assin North. As publicly advertised, the Party is yet to hold Parliamentary Primaries in the Assin North Constituency to elect the Party's Parliamentary Candidate for the by-election. It, therefore, beggars belief how the NDC is able to determine our Parliamentary Candidate ahead of time and to suggest that we are plotting with the EC to illegally insert his name in the Assin North register."

Since the NDC is deficient in its appreciation of Ghana's electoral laws, we wish to give them some education on the relevant aspects of the law. Their claim that the NPP is seeking to transfer the name of a registered voter to the Assin North register to qualify him to contest in the parliamentary by-election actually betrays the NDC's appreciation of Article 94(1)(a) of the 1992 Constitution. Article 94(1)(a) does not require a parliamentary candidate to be registered in the constituency they wish to contest to be viable."