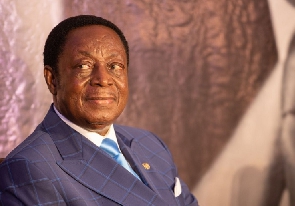 A lecturer and political analyst Michael Ebo Amoah has described the decision by Dr. Kwabena Duffour to withdraw his suit against the primaries of the National Democratic Congress (NDC) as the wisest.
He had earlier recommended Dr. Kwabena Duffour reach a settlement and abandon his lawsuit against the National Democratic Congress (NDC), allowing the primaries to proceed as planned.

Speaking on Rainbow Radio 87.5 FM's Frontline, Michael Ebo Amoah stated that delegates will revolt and punish the former finance minister if he fails to compromise and drags the issue out.

"Dr. Duffour's results will be affected if the case drags on and the intended date for the primaries changes, he argued.

What he has done has significant political ramifications. The electorates will punish Dr. Kwabena Duffour and his supporters for this behaviour, especially if they refuse to compromise and the primaries are held this week.

"The delegate will revolt, and it will reflect on his results." We'll talk about it after the elections, believe me. He will be punished if he does not compromise and allow the primaries to be held. If it continues for a week or two, it has financial ramifications for the party, the legislative system, and the delegates. It has the potential to generate anxiety."
Dr. Kwabena Duffour, one of the aspiring presidential candidates in the upcoming National Democratic Congress (NDC) presidential primary has withdrawn his suit.

An Accra High Court was expected to hear the injunction application against the National Democratic Congress (NDC)'s presidential and parliamentary primaries.

The hearing was initially scheduled for Monday, May 15, but the legal team for the party pleaded for the abridgement of time – which was granted by the court.

The former finance minister and his team had complained that it had not been furnished with an accurate list of persons who are supposed to participate in the May 13, Presidential and Parliamentary polls.

He, therefore, asked the court to put the elections on hold and have the party engage candidates on a road map toward drawing up an accurate list of voters.
But he has withdrawn the suit stating that the issues would be resolved internally.

The court subsequently struck out the case.

Amoah reacting to this said "Dr. Kwabena Duffour made the wise decision to withdraw the suit from the court. It's not surprising, but I must emphasise that it was the best decision he ever made. In politics, you never know what the future holds, so making strategic decisions is essential."

He claimed that even if he had not withdrawn the case, the court would have dismissed it because it lacked merit.

"What I will recommend is that the party sit down with him and address the issues he raised as soon as possible. The elections were scheduled for tomorrow, which is why I was disappointed that the EC rushed to withdraw its supervisory role."